This blog is written by Wysing's Director, Donna Lynas - whenever she gets some spare time - and is about some of the things happening at Wysing, or influencing what happens at Wysing.
Instagram 8 February 2016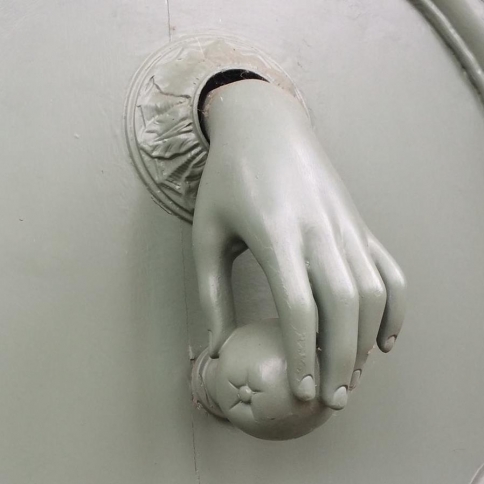 I'm on Instagram now if you want to keep up with all things Wysing and life related. Find me at wysing_donna
Tags: untagged
Wysing Poly 6 February 2016
So, I'm a bit lapsed with blogging because there has been a lot going on and it's often difficult to find time to quietly reflect. If you've seen any of our publicity for our 2016 programme you'll know that we are taking Wysing Poly as the starting point for the year's programme. Just to explain the thinking behaind that - for quite a while now we have been introducing new programmes to support artists at different stages in their lives. What tends to happen is when a programme becomes established - like residencies and retreats - they become over-subscribed and increasingly competitive. We've been looking at current residency applications over the last couple of weeks and they are incredibly impressive - well considered, relevant and very international which is not surprising as we specifically asked for diverse cultural and artistic perspectives in this call out. But more about residencies another time. When programmes become over-subscribed then we create new ones to fill the gaps - hence retreats, study weeks, study days, Circuit and The Syllabus for which we are collaborating with peers across the UK on an altternative learning programme. Wysing Poly has emerged from this background but it is specifically rooted around the word Poly to reference the meaning of Poly - many - and the Polytechnic. That's because last summer we hosted an event curated by Irene Revell of Electra which involved David Toop being in-conversation with Conal McStravick about the legacy of the artist Stuart Marshall, who died in the early 1990s and who had been central to emerging video and sound art in the UK during the 1980s. Listening to David Toop it suddenly struck me what an experimental time it was for the arts in the 1970s and 1980s, when networks of artists slipped in and out of roles to generate an energy that seems to have re-emerged today in the plethora of impressive artist-run spaces and initiatives. This energy came out of centres of learning, predominantly Polytechnics, in a way that seems to have been lost today; as Universities have been pressurised to operate as businesses. Wysing Poly is our contribution to this discourse and alongside residencies we will be hosting events and discussions that both look back to the 1970s and 1980s, a period which did of course also have it's problems and exclusions, and look to what is happening now in the arts and education. Wysing Poly starts on 13 February, 6-8pm, with the launch of a group exhibition The Practice of Theories that brings together some of the people who have influenced the year, not least David Toop. Join us if you can.
Tags: wysingpoly | thepracticeoftheories |
OPTICAL ILLUSIONS POLITICAL DELUSIONS 7 December 2015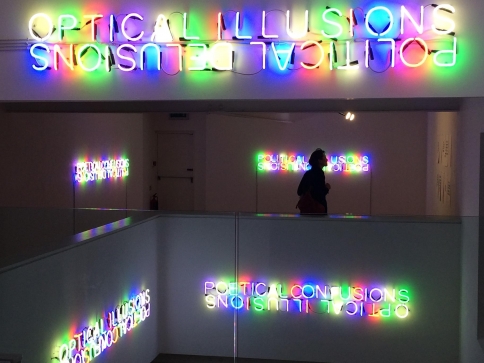 Interesting time in Plymouth last week talking about our 2016 programme Wysing Poly (more info here) and good to see this Tim Etchells show at Plymouth Arts Centre which seemed perfectly timed with current politics. Off to Norwich this week and then it's our final event for 2015 this Saturday afternoon. Hope you can join us.
Tags: themultiverse | wysingpoly |
Cosmic Magnatism 17 November 2015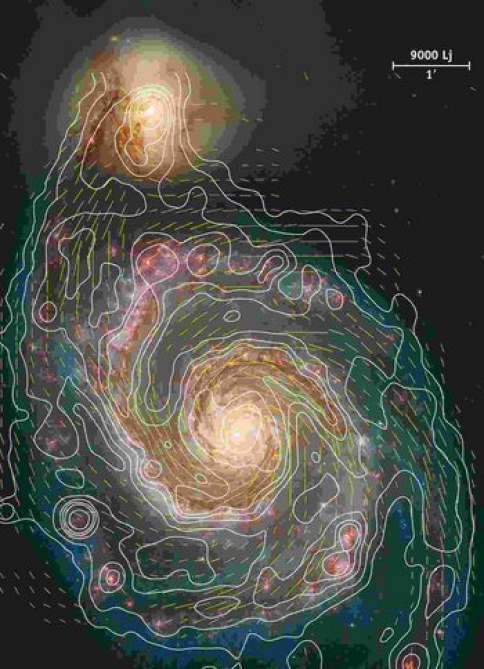 This beautiful image was generated by observations from a radio telecope, overlaid onto an image from the Hubble optical telescope. It shows the magnetic fields in a nearby spiral galaxy. Before we had our tour of the Radio Astronomy Observatory, just down the road from Wysing (see previous entry), I had no idea that images like this even existed. As we edge towards the end of 2015 it's good to have one last look out into The Multiverse.
Tags: themultiverse |
Listening to the Skies 17 November 2015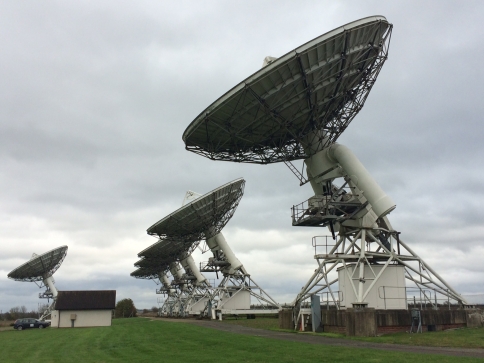 It has been two months since I updated this blog! That's because I have hardly sat down in the intervening period - I've been up to Stoke on Trent to see the British Ceramics Biennial and the beautiful Peak District, up to Leeds to see The British Art Show, across to Nottingham to check in with The Syllabus artists, been looking after our stand at the Sunday Art Fair, helped out at our young peoples' groups major outdoor festival in Cambridge, hosted a bit of a mad event on Halloween, went out to see some live music including Battles, Mark Fell, and Ryoji Ikeda and Carsten Nicolai, been in a couple of meetings with Darren Henley, out at meetings with artists, and out to dinner with our new residency artists - also went on a visit to the Mullard Radio Astronomy Observatory with them, a place I have been meaning to visit for the past ten years and where this photo was taken. And when I have been in Wysing, in between learning how to set up a record label, I have been working away on our 2016 programme. It has been an incredibly interesting and productive period and I'm really looking forward to sharing next years plans with everyone which we will do hopefully next week, though much of next week will be spent in Manchester at a Plus Tate meeting and I'm looking forward to seeing the new Whitworth at last. But news about 2016 plans at Wysing coming very soon indeed.
Tags: 2016 |