This blog is written by Wysing's Director, Donna Lynas and is about some of the things happening at Wysing, or influencing what happens at Wysing.
Click the tag spacetime15 to see listen to some of the music being played at this year's festival, on 5 Sept. Full line-up listed here.
Squares and Triangles 29 June 2015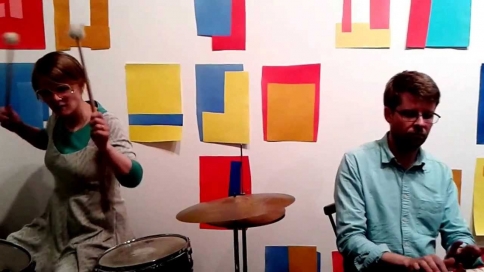 This festival is just going to be so good! Here are some sunny sounds from Squares and Triangles who are artists Maria Zahle, Jason Dungan, Dustin Ericksen, Anthony Faroux and Sam Porritt. Just imagining them playing in Amphis, on the schedule at round 1.30pm, with everyone sitting on the grass outside chilling out. Really can't wait for this festival to happen. Click here to see some Squares and Triangles.
Tags: spacetime15 |
Northumberlandia 19 June 2015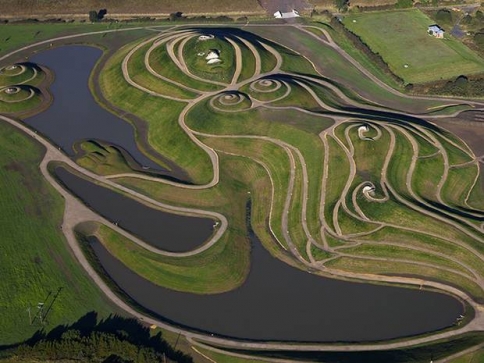 Didn't know anything at all about this huge land art piece near Newcastle by architect Charles Jencks until just a few days ago. Having done some Googling, it appears that Jencks had hoped for it to become a major tourist attraction to rival The Angel of the North but so far people seem bemused by it. Maybe it just seems too madly pagan to have a huge naked woman rising out of the landscape. Poignant as well though given that Jenck's created a string of support centres, called Maggie's Centres, across the UK in memory of his wife Maggie who died of cancer in 1995. Anyway, it's a brave and bold thing to have done. Maybe someday people will love her.
Tags: summer solstice |
Bruce Gilbert and BAW 12 June 2015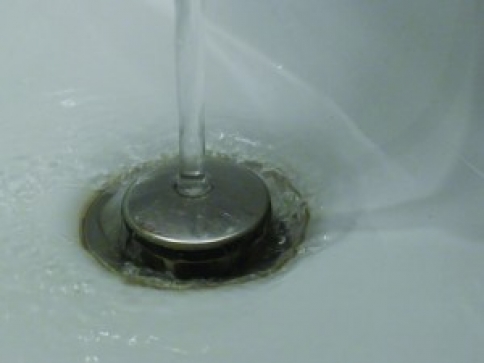 Pleased to have the legend that is Bruce Gilbert perform at the Wysing festival this year. Bruce is of course one of the founding members of Wire. I had seen him perform in an event with David Crawforth and Naomi Siderfin, of Beaconsfield gallery, at Faster than Sound in Suffolk about four years ago. And hadn't realise that they had been collaborating more since then, as Bruce Gilbert and BAW. Here's a link to extracts from the album they made at the time which was sequenced and mastered by that other legend, Russell Haswell, who in fact I met for the first time at that same event four years ago. Click, here.
Tags: spacetime15 |
LoneLady 6 June 2015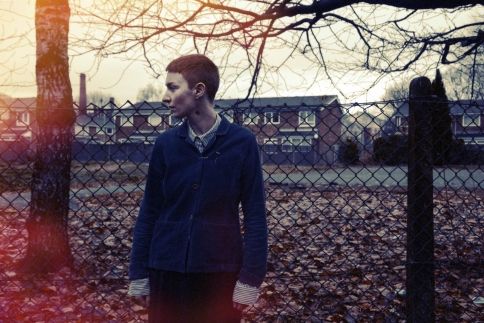 Manchester based Julie Campbell studied Fine Art at Manchester College of Art but has been focussing on her music more in recent years. I really can't wait to se her play at Wysing. We're putting a circular stage right in the middle of the gallery this year which will make for a very different experience for everyone - more immersive of course - which will be amazing for James Holden's set with dancer Lucy Suggate. Anyway, have a listen to LoneLady - to me, it's Madonna meets Joy Division! Click to go to Vimeo, here.
Tags: spacetime15 |
Bill Drummond 17 May 2015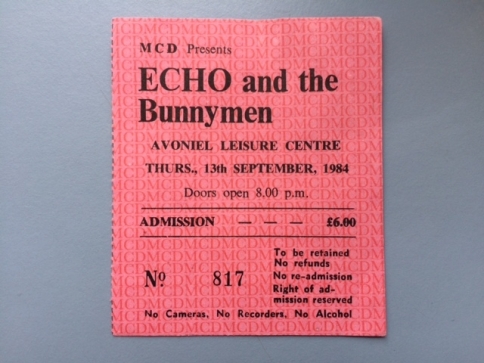 So, in case you didn't know, I grew up in Northern Ireland during a very difficult time in that country's history. It was very confusing to be a child and teenager in the atmosphere of violence that pervaded at the time. At some point I came to the conclusion that I had to leave. That decision was helped by seeing lots of dubbed foreign, mostly German and Eastern European, TV programmes and films that expanded my horizons. And music of course. Music was the main thing that offered escape and hanging around record shops was a favourite weekend past-time. The first proper gig I saw - the first that I saved up for, bought the tickets for, and persuaded a friend to drive me the 50 mile round trip to Belfast to see, was Echo and the Bunnymen. I can still remember everything about it and the experience had a huge effect on me. Quite possibly it was the moment when I realised that I had to leave Northern Ireland which I did a few years later, to go to art college in Dundee. This week, amazingly, I met the person who organised that very gig - Bill Drummond. Turns out that he managed Echo and the Bunnymen at the time, before going on to do all sorts of amazing things as a musician and artist. Bill grew up in rural Scotland, knew Belfast well through family holidays, and knew how important it was to get bands like that playing in the city. In fact he has told me that he approached working with the band as an art work; a way of working he has developed over the years. He came to do a talk at Wysing during Pil and Galia Kollectiv's brilliant retreat last week. It has been kind of amazing to have had the chance to say thank you to him, from my teenage self. I didn't expect to have the opportunity.
Tags: thankyou |