Blogging about some of the things happening at Wysing, or influencing what happens at Wysing.
Archive: September 2012
Magnificent 28 September 2012
I went to another amazing event last night Concerto Magnificent: An Anthology of All Things at Bedford's Corn Exchange. This extraordinary project, which was commissioned by Bedford Creative Arts, brought fifty Bedford residents together in a newly formed choir to perform a work written by the very talented Johnny Parry. To generate words for the songs, Johnny asked people to send him lines or phrases which he then worked up into seven movements, with accompanying orchestration. Some of the phrasing was funny - 'I have a manly beard', or funny and touching - 'I am a cat you are my lap'. There was also a section where names and dedications from memorial seats and benches around Bedford were read out. But it was the music that made it - complex and difficult sections followed by sweeping and intense emotion. And the choir, of mostly amateur singers, were on top form and looked like they were having an amazing time. Which I'm sure they were. It really was extraordinarily uplifting. It's been a sorrowful week and just that afternoon I had been told some very sad news. So after the concert I went for a walk, past some of those memorial benches, along the river Ouse which was totally still and inky black, reflecting the almost full moon, stars and streetlights. There was no-one else around, just the occasional swan drifting by. And it was so silent, the music still in my head.
Tags: johnny parry |
Michael Stanley 24 September 2012
I was so sorry to hear the news over the weekend that Michael Stanley has died. Mike was Director of Modern Art Oxford and before that Milton Keynes Gallery. You only need to look at what he achieved with both of those organisations, at such a young age, to see what a talented person he was. I saw him last week, at a meeting at Arts Council, in which he was being his usual clever and incisive self. He was always so infectiously enthusiastic. And such a kind and generous man who treated everyone equally. It's difficult to accept that he is gone.
Tags: untagged
More Radio 18 September 2012
As mentioned in my last blog entry, 2EmmaToc is a radio broadcast that has been coming out of an amazing temporary structure in the grounds of Writtle College over the past week; a collaboration between artist Melissa Appleton and architectural practice Post-Works. 2EmmaToc is name of the original radio station which broadcast live performances every Tuesday evening from an army hut near Writtle village in 1922. I've been listening online in the evenings – tonight is the last broadcast, from 6-7.30pm - and went down there for the live event at the weekend. I really do love radio; the idea of someone sending information out into the ether not knowing who, or if anyone, is picking it up is really quite a magical thing. The programmes I have caught, online unfortunately as I'm too far to pick it up on analogue, have related to ideas of time and space – connecting people from different parts of the world, referencing other worlds, the stars and solar system, and bringing to life the past history of the area. It was good to go down and see it all happening on Saturday – the structure incorporates both a radio booth and a performance stage. The stage had a completely brilliant sound system, courtesy of The Professor! The performances were all really great – Kevin Atherton's clever performance/conversation with a broadcast of his younger self, and I was pleased to see Heather Phillipson's new work Pressurized which I missed at the Whitechapel last week. Edwin Burdis did the most amazing live set, songs with accompanying projected images, which mostly took us into outer space though there was a surreal, and memorable, moment when he appeared to be blowing into a long scaffolding pole which at its far end had the circular projection of possiblty an udder (?) I went with my two children and they sat transfixed throughout this work which they both thought was 'amazing'. It was a lovely evening too; sitting on bales of hay, huddled under blankets and drinking hot chocolate whilst the sun went down, geese flew overhead and amazing things happened right in front of us.
Tags: writtle calling | radio |
Writtle Calling 14 September 2012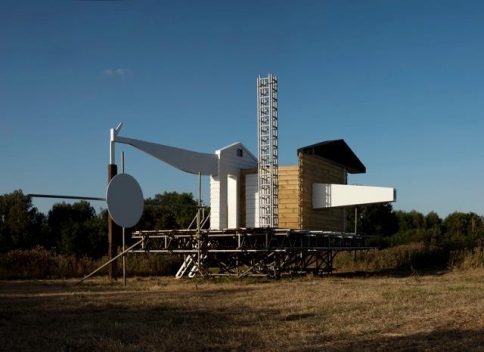 2EmmaToc is a radio station that has been broadcasting over the past week from this amazing structure near Chelmsford in Essex. Aiming to get down there for some events tomorrow evening. Full programme details www.writtlecalling.co.uk
Tags: writtle calling | radio |
Radio Music 10 September 2012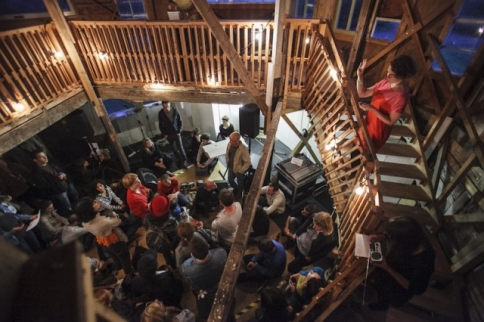 Well, I've been at Wysing for seven years and in all that time have never taken part in the public performance of an artwork. I've had the opportunity, many times, but preferred to stay in the background. I decided though to take part in the re-staging of John Cage's Radio Music (1956) with seven other people, and at the invitation of Philomene Pirecki, at our festival last week. I was intrigued by the score which the first time I took a look at seemed totally impenetrable – a list of apparently random FM frequencies. Then, when we had a rehearsal I realised how the whole score, for eight players, had been constructed so that the frequencies and notated silences could potentially collide with one another. I enjoyed the rehearsal better than the public performance because in the empty and atmospheric space of Amphis I could hear my score (Part D) tune in with the others; words and sounds overlapping and playing off each other. It was a lovely thing to have done.
Tags: john cage | radio | elizabeth price | philomene pirecki |