Blogging about some of the things happening at Wysing, or influencing what happens at Wysing.
Archive: October 2012
The Fens 31 October 2012
Took a drive into the Fens yesterday, destination Wisbech "Capital of the Fens"! The landscape really is extraordinarily flat; land reclaimed from the sea in the 1600s. The soil is still rich and we passed fields of pumpkins looking very orange against the slightly sinister looking black soil, and heaps of sugar beets piled up along the side of roads. Even though there hasn't been much rain recently a lot of it was flooded, with willow trees sticking incongruously out of the water. Driving through the Fens feels like disappearing into another world, one where places have names like Wicken Fen, Red Fen, Grunty Fen and Witchford. We drove back through Witchford just as the moon was rising; low in the sky, red from the reflection of the sinking sun and enormously full. Wisbech is right up by the mouth of the Wash, historically a wealthy and prosperous town and one full of beautiful Georgian buildings. One particular street of Georgian houses with the river Nene running down its centre, down which ships used to pass, is unspoilt and stunningly beautiful. The town itself has fallen on hard times in recent years and has an air of desperation about it, with people sitting around the streets drinking cans of strong lager. Wisbech Museum is a purpose built museum, built in the mid 1800s. Like visiting Wisbech, going into the museum is like stepping into the past. All the vitrines were purpose built out of dark hardwood and the handblown glass that covers them is a lovely thing in itself, never mind all the treasures inside. They've got some fantastic things, not least a number of Bernard Palissy (1510-1590) dishes. Worth going just for them; they somehow symbolised the journey.
Tags: untagged
Nottingham 23 October 2012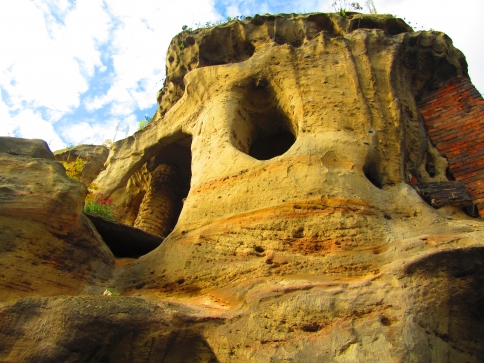 I had no idea that Nottingham Castle has caves beneath it; carved out of the soft sandstone it's built on. But it does. You can take a tour with a local enthusiastic historian who will tell you all sorts of things about the history of the castle which is in fact a replacement palace; the original castle having been raised by Oliver Cromwell. The caves were tunnels up to the castle, dungeons, and also on occasion, housing for plague victims. The 17th century mansion sitting on top of these organic and primitive shelters is unnervingly surreal; an apparent clash of logic meets chaos. I found the caves and their often desperate and gory history fascinating, but the main reason I went to Nottingham at the weekend was to see the exhibition Kafou: Haiti, Art and Vodou at Nottingham Contemporary. I always like visiting Nottingham Contemporary because every time I've been there have been loads of people in it. It seems to have found the right balance of programming that feels experimental, but at the same time relevant to both the city and the arts more widely. The show was very interesting in terms of the individual works which were created by artists who were often Vodou priests. So alongside paintings and sculpture there were the most amazing sequined flags some of which still held the stains of their previous ritualistic use; tears, blood and fire. The exhibition was in no way exoticising Vodou however, and all the artists included – working from the early 20th century until today – were given space and their work hung in the context of the history of Haiti since the slave revolt in the early 1800s. I didn't know that Haiti had been demonised by it French colonialists as a way to discourage other slave colonies from revolting; a legacy and identity it has lived with ever since. The works and accompanying wall texts reveal the history of the island and also the role of artists in how the religion of Vodou – an amalgamation of African spiritual beliefs, European spirituality and mysticism, Catholicism and Freemasonry - is made visible. It really is an intelligently curated exhibition of fascinating and unsettling work.
Tags: nottingham contemporary |
Frieze Week 16 October 2012
Well, another Frieze week has come and gone. I did enjoy it – all the running backwards and forwards to London, the meetings, the VIP breakfasts, the trips to the Ritz... There is no other week in the year like it; to be anticipated and dreaded in equal measure. Dreaded because it's so exhausting and you feel persistently guilty and frustrated at missing things. And because you have to go to an art fair. And anticipated, because you know you're going to experience some amazing things and have some interesting conversations. All of which happened again this year. In the fair, Grizedale really did excel themselves with their structure of craziness. It was nice to hang out there chatting to people coming and going. I spent a long time watching Bedwyr Williams' performance, which in fact made me feel rather queasy even though I knew it was cake. Some good images HERE. And I got invited along to one of their dinners – six courses of the most incredible food by Michelin starred chef Simon Rogan. In amongst the general glitz of the fair I was determined to seek out some modest and serious art moments and was pleased to find Michal Budny's solo presentation at Raster Gallery's stand. Quiet and meticulous work - mostly paper constructions, fragile with an absence that implies an element crucial to their making being quietly and secretly removed, such as gently twisting wooden bookshelves with no books. And Joanna Rajkowska's Frieze Project Forcing a Miracle, with incense embedded into the grass, was a lovely cleansing thing to experience on leaving. I caught the Sunday art fair too and was really pleased to see Mark Aerial Waller's Midwatch 1999 which I've wanted to see for ages. It really is an extraordinarily claustrophobic work and reminded me of Satre's play In Camera, 1944 which someone introduced me to recently. In Mark's film, two protagonists take part in a confusing, strangely out of time, rambling conversation/argument supposedly on a boat and definitely in the dark and shot in infrared. One of those protagonists is Mark E Smith and listening to the way he structures sentences, alongside the gentle and lulling musicality of his voice, tinged as it is with more than a hint of menace, really was unforgettable.
Tags: untagged
Beautiful 10 October 2012
A sentence of the form "A and B" is true if and only if A is true and B is true.
A sentence of the form "A or B" is true if and only if A is true or B is true.
A sentence of the form "if A then B" is true if and only if A is false or B is true.
A sentence of the form "not A" is true if and only if A is false.
A sentence of the form "for all x, A(x)" is true if and only if, for every possible value of x, A(x) is true.
A sentence of the form "for some x, A(x)" is true if and only if, for some possible value of x, A(x) is true.
Tags: alfred tarski |
The View From My Window 5 October 2012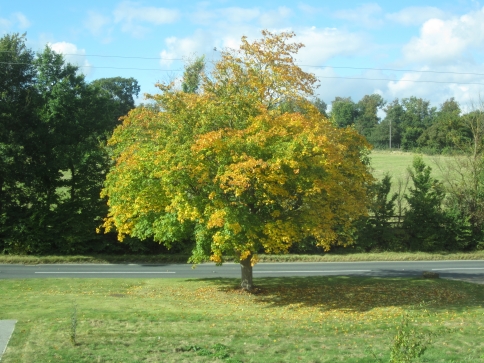 Tags: untagged