Blogging about some of the things happening at Wysing, or influencing what happens at Wysing.
Archive: October 2013
Newness 29 October 2013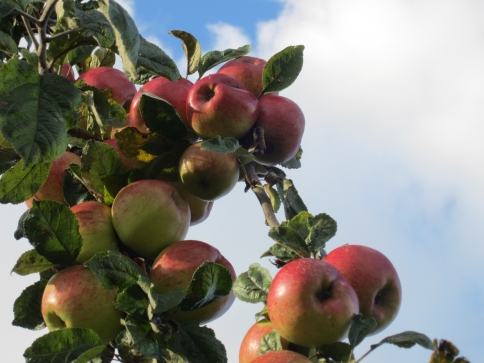 Tags: untagged
Turner 25 October 2013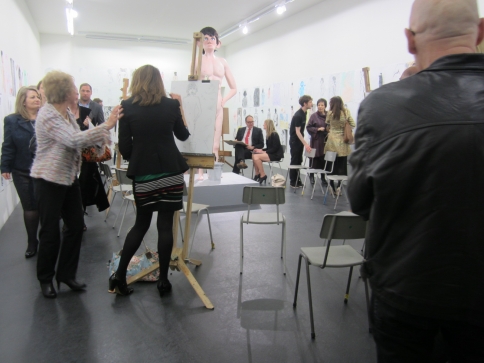 So, I had a great time in Derry for the opening of the Turner Prize. Laure Prouvost's installation is wonderful - the film 'Wantee' that she shot at Grizedale Arts last year, plus teapots and cups made there with the help of Adam Sutherland, and other objects from the film. The work is an extension of the fictional narrative she has been developing about her 'grandparents' and is a warm, humane and funny reflection on the relability of memory, and familial relations. It would be an amazing statement on behalf of the prize if such a modest artist, in terms of material and content, were to win it. I really hope she does. More likely to be doing that however is Tino Segal who is much more politicised but also very much accepted by the art establishment, his Tate Modern turbine hall commission being proof enough of that. His new work for the TP is clever and timely given the current economic situation alongside the resurgence of the art market - gallery attendents approach visitors and engage them in a converstion, specifically on the market economy in exchange for £2, paid to the vistor. We had a very enjoyable conversation/argument, skillfully directed by the gallery attendent who clearly knew what he was talking about. My mum told me afterwards that someone I'd had a brief exchange with is the well known Irish expert on Marxism, Eamonn McCann, which I didn't know at the time. The gallery was buzzing with similar lively exchanges - pretty much everyone in Ireland is very good at talking politics. Our discussion was split between people who thought the market economy would always prevail and others who thought that society needed a complete re-think. Lynette Yiadom-Boake's paintings were ok, but I didn't find them that interesting. And David Shrigley's life drawing class with giant plastic life model sculpture (pictured before I was told I wasn't allowed to take photos) was disappointing. Anyway, it was a great night, my parents who live near Derry enjoyed it, and I unexpectedly bumped into lots of nice people I knew.
Read about Laure Prouvost's residency at Wysing here, retreat here, The Department of Wrong Answers exhibition here, The Starry Rubric Set exhibition here and outdooor sculptures here.
Tags: laure prouvost |
Derry 21 October 2013
Last week was a busy one and this one isn't any different. I'm off to Derry tomorrow for the opening of the Turner Prize 2013. I'm going not only because Laure Prouvost is an artist we know well at Wysing - see our archive, but because I grew up in Northern Ireland during the worst period of the notorious Troubles. During that period – living in violent times on a besieged council housing estate – art was the one thing that kept me optimistic and reassured me that there was something bigger beyond my small, uncertain, and often frightening, world. Bigger, and more complex as far as I was concerned. Luckily I had some enlightened teachers who took me on trips to theatrical productions, private views and artists' talks. So I can't quite believe that times have moved so far on that not only is Derry the current Capital of Culture, but that artists like Laure, Mark Wallinger and Santiago Sierra are exhibiting there, alongside a healthy Irish and Northern Irish artist contigent including the wonderful Willie Doherty who I worked with when I was at Modern Art Oxford. It's a measure of how much change has taken place, though it has taken a painfuly long time. My parents live close to Derry and they're coming to the launch with me. It'll be an interesting evening. I should also say that despite the history, Ireland is one of the most beautiful places I have ever seen and the area around Derry in particular is stunning. Then I'm off to Portsmouth but will be back in time for Giles Round's Bourn Cookery Book III on Saturday, from 4pm. Join us, there'll be a lot of food!
Tags: untagged
Blue Heart 20 October 2013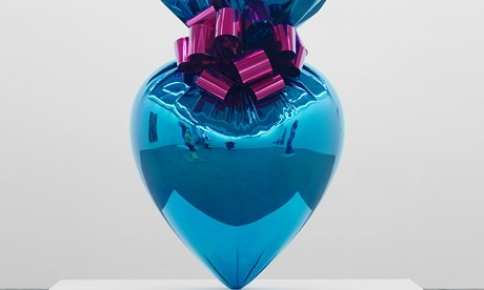 So, another Frieze has come and gone. I enjoyed it more than usual as the fair itself felt more spacious and manageable. And as I was in London for three days I had the luxury of time; spent seeing a lot of exhibitions and catching up with people I like very much. I saw a lot of great stuff, not least the Sunday art fair down the road from Frieze, and also had to miss a lot of good things. At Frieze, a few of the stands had been given over to just one or two artists, the most extraordinary being the Gagosian stand which included four or five enormous Jeff Koons'. The extraordinary thing about this stand was that each work appeared to have its own intimidating security guard, and so no-one felt able to go near any of it. It was an odd spectacle and standing looking from the edges along with everyone else, it was genuinely impossible to place in a timeframe - it could have been the mid 2000s or even mid 1990s. The whole thing unashamedly summed up just what Frieze is all about – money of course, a lot of money and not for the likes of you or I, unless you have a spare $24 million for a Sacred Heart (Blue Magenta). I wonder if the people who occupy this world are aware that whilst the art market has never been more bouyant, the publicly subsidised sector and arts education have never been in greater peril. Strange times indeed.
Tags: untagged
Everyone who contributed to the Bourn Cookery Book III 15 October 2013
Mark Aerial Waller, Jenny Atkins, Anna Barham & David Osbaldeston & Charlotte Prodger & Florian Roithmayr, Brenda Baxter, Ruth Beale, Gareth Bell-Jones, Jo Beridge, Tiffany Betts, Pippa Brooks, Graham Bruce, Annie Bunnetat, Edwin Burdis, Café Abantu, Sheelagh Canney, Jackie Chettur, Revd Dr Alexandra Clarke, Jenni Connell, Peter Connell, Jean Crow, Richard DeCordova, Barbara Dyson, Celia Eardley, Bettina Furnée, Ann Gildersleve, Annie Grant, Margaret Greenwood, Ian Hildrew, Shumona Knott, Ian & Sarah Laughton, Dr Thomas Mathews, Alison Measson, Ellie Morgan, Josepa Munoz, Seb Patane, Philomene Pirecki, Alison Power, Doug Priest, Jo Proud, Laure Prouvost, Joan Rolls, Phil Root & Lou Ruddell, Pat Russell, Marjon Shamloo-Johnson, Alice Shipman, Cally Spooner, Emma Stubbs, Peter Voshol, Caroline Wendling, Sara Wilkinson. How we Make and How we Might Make Artists: Briony Clarke, Lawrence Epps, Andrew Lister, Amanda Loomes, Victoria Mitchell, Rupert Norfolk, Beatriz Olabarrieta, Natalie Pace, Matthew Stuart & Ellen Mara De Wachter. Book launch 26 October, 4-6pm.
Tags: giles round |