Blogging about some of the things happening at Wysing, or influencing what happens at Wysing.
Archive: November 2013
The Art Party Conference 25 November 2013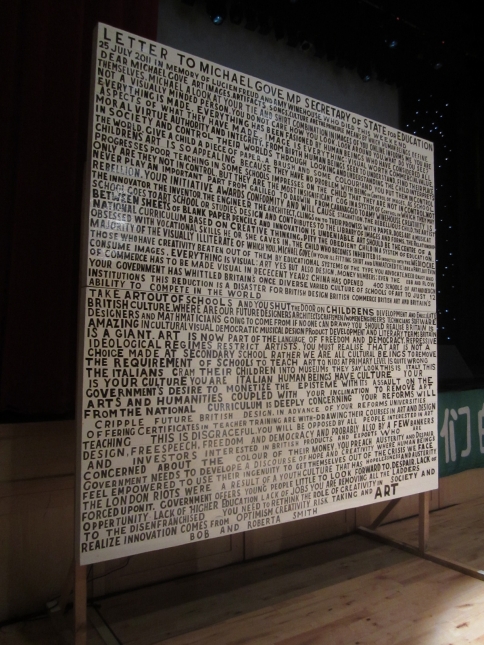 I headed up to Scarborough on Saturday for the Art Party Conference, which had been organised by the artist Bob and Roberta Smith and Crescent Arts, and I'm very glad that I did too. It was located across Scarborough's expansive Spa centre, and in every nook and cranny of the building some kind of art activity was taking place. Some it was very funny and all of it was addressing the serious issue of the de-prioritisation of the arts within the national curriculum and the effect that this would, and is currently having, on children especially those from less well off backgrounds. Part of the event included a hilarious appearance by the 'Right Hon Michael Grove' who defended the current government's policies on education, to much booing and heckling from the crowd. I was initially concerned that the lampooning of one individual to such a personal extent might overshadow the more important message, but then was reminded by Amy Botfield of Hogarth, Spitting Image and Have I Got News For You and the British, though not exclusively so, tradition of caricature and humour as a protest against political systems. In fact the whole event had a very particular atmosphere of Britishness about it, from the bunting and placards strewn around the main hall to the fact that it was set in a quaint Victorian seaside town. I enjoyed every element of it, starting with a round-table discussion between Jeremy Deller, Cornelia Parker and Pavel Buchler, chaired by Stephen Deuchar, in which they talked about key moments for them in discovering art; each aided by one particular inspiring teacher. I also enjoyed John Smith in conversation with Gilane Tawadros, and was totally captivated by Lynda Morris' recollections of her life as muse and friend to Gilbert and George in the early 1970s, a time that felt incredibly distant and good to be reminded of in such a personal way. It's amazing that they all survived though, due to the large amounts of gin consumed and the many hearts broken. Lynda ended her talk by screening G and G's very funny Bend It. In a way I was captivated by the whole event – everyone involved had approached it from the same starting position; a great love for art. It was a real pleasure to sit around chatting about art with a lot of very interesting people, the friendly atmosphere undoubtably generated by the affable and self-effacing Bob himself and all his supporters and collaborators. Of course we were all part of a giant artwork by him and every part of it had been thought of in those terms. There were so many discussions that I barely noticed that I somehow managed to get myself roped into doing an impromtu discussion for Resonance FM with Patrick Coyle and Gavin Wade. Later some really great bands played, not least the extraordinary Jemma Freeman who had the most incredible energy and stage presence. I noticed a cut knee and blood on her woolly yellow tights by the end of the set. There were many highlights and wonderful, memorable, moments across a packed twelve hours. Not many things you can say that of. Now that there has been a coming together of ideas and ideals we need to make sure that the momentum continues and the voice for art is heard.
Tags: art party |
Freud's Spectacles 19 November 2013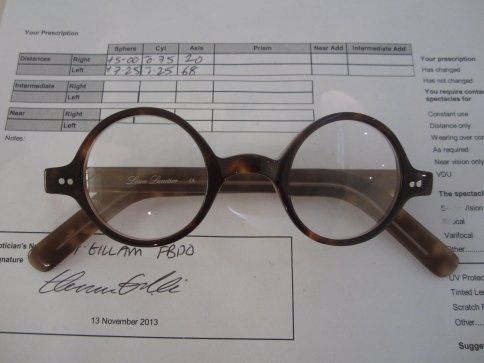 Rory Macbeth has had these made - spectacles produced to the same prescription as Sigmund Freud - for our current exhibition X-Operative. Entitled 'Reading Glasses (Fraud)' 2013, and made in relation to the theme of reading and writing, it's a genius piece of work - the spectacles are at such a high maginification that it's impossible to see anything through them, including the writings of Freud set alongside them. The gallery has been transformed and there are so many amazing books in it that it's tempting to stay in there all day reading. Loads of brilliant events coming up too. See the exhibitions page of the website for full details or click here.
Tags: rory macbeth | sigmund freud |
Out of the fog 17 November 2013
…Not far from the house was a wide shallow patch of land that often filled up with night fog at this time of year. The fog was there tonight, had been there all this while. But now at one point there was a change. The fog had thickened, taken on a separate shape, transformed itself into something spikey and radiant. First a live dandelion ball, tumbling forward, then condensing itself into an unearthly sort of animal, pure white, hell-bent, something like a giant unicorn rushing at them… Then the vision exploded. Out of the fog, and out of the magnifying light – now seen to be that of a car travelling along this back road, probably in search of a place to park – out of this appeared a white goat. A little dancing white goat...
Tags: alice munro |