Blogging about some of the things happening at Wysing, or influencing what happens at Wysing.
Archive: December 2013
The Future 31 December 2013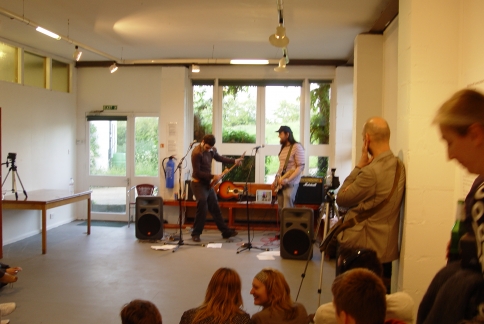 If you have seen any of our publicity recently you'll know that it's Wysing's 25 birthday in 2014. Throughout the year the over-arching theme of the programme is The Future and we'll be looking at the potential of the future through what we know of the past in the programme. Alongside this, were starting to update the archive on this website of residencies and projects that have happened throughout the years. Whilst looking back through archive material I came across some images of people who have been in-residence at Wysing over the years and thought I'd use this blog to occasionally post some of these photos. Starting with the lovely Juneau Projects who were in residence in 2005 and came back in 2006 for their really fantastic exhibition The Black Moss which included a live performance by them at the opening.
Tags: juneau projects |
What do you mean by authentic? 16 December 2013
El from X Marks the Bokship organised a really brilliant event at Wysing at the weekend one of the highlights of which was an edited re-enactment of 'East Coast/West Coast', 1969; a conversation/staged argument between Nancy Holt and Robert Smithson, with Joan Jonas. It was performed on Saturday by Paul Becker and Nadia Hebson, and directed by Jessica Wiesner. In the conversation, Holt and Smithson each take a deliberately exaggerated position on two sterotypes in art; the US East coast intellectual and the the West coast dreamer. It's a very funny conversation and it was great to hear it read aloud as part of a day that explored the possibilities of language. I really love the parts where Smithson resorts to inventing clunky mystical experiences and connections to reinforce his point. Another really great performance was Chris Evans and Will Holder's 'Errors hit Orient'; experimental novelist B.S. Johnson's lyrically wonderful football reports, which were originally published in The Observer in the 1960s, set to music. After a difficult couple of weeks, the whole event, which also included readings and publications launches followed by dancing courtesy of DJ Paul Purgas, was very much needed and appreciated. I found the original East Coast/West Coast on Ubuweb, it's really worth a listen, here.
Tags: untagged
Paperflakes 13 December 2013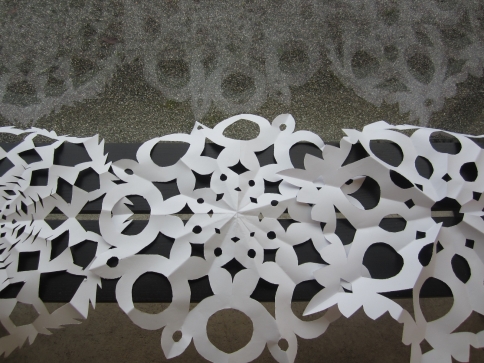 Tags: untagged
Alice Again 10 December 2013
What she had seen was final. As if she was at the edge of a flat dark body of water that stretched on and on. Cold, level water. Looking out at such dark, cold, level water, and knowing it was all there.
Tags: alice munro |
Settlement 6 December 2013
Adam Chodzko is coming to Wysing tomorrow to talk about his work from 2001, 'Plan for a Spell'. We'll be screening it of course and that will be followed by an in-conversation with writer and Wire magazine editor-at-large Rob Young. I haven't seen Adam for a while and have been remembering a work I commissioned by him for the South London Gallery collection in 2004 - the collection mainly dates from the gallery's Victorian origins, but it has some good contemporary work in it as well. The work by Adam, Settlement, sounded like a pretty straightforward proposition - he wanted to give a piece of land to a stranger as a gift. Specifically, a piece of so-called 'public' land from nearby Burgess Park. It was my job to figure out how to do that which involved getting into all kinds of convoluted conversations with lawyers - we were allowed to buy an A4-size piece of land, but not allowed to have the air space above it, or the ground beneath a 2cm thick piece of the surface - this was noted in the contract with Southwark Council. To deliberately add a further layer of complexity, Adam was determined to give the land to someone who was stateless and unlikely to ever be able to own any land in the UK. Somehow, I can't quite remember how, we managed to do it and someone out there owns a tiny fragment of Britain. It was quite a good exhibition that - Perfectly Placed - new works commissioned for the collection by Adam, Cornford and Cross, Goshka Macuga, Janette Parris and Paula Roush - and in which the SLG became "a laboratory for the production and appreciation of art through debates, artist-led discussions and workshops" Sounds familiar!
Tags: adam chodzko |