Blogging about some of the things happening at Wysing, or influencing what happens at Wysing.
Tag: john cage
Radio Music 10 September 2012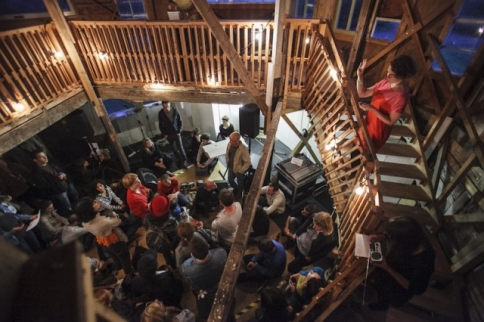 Well, I've been at Wysing for seven years and in all that time have never taken part in the public performance of an artwork. I've had the opportunity, many times, but preferred to stay in the background. I decided though to take part in the re-staging of John Cage's Radio Music (1956) with seven other people, and at the invitation of Philomene Pirecki, at our festival last week. I was intrigued by the score which the first time I took a look at seemed totally impenetrable – a list of apparently random FM frequencies. Then, when we had a rehearsal I realised how the whole score, for eight players, had been constructed so that the frequencies and notated silences could potentially collide with one another. I enjoyed the rehearsal better than the public performance because in the empty and atmospheric space of Amphis I could hear my score (Part D) tune in with the others; words and sounds overlapping and playing off each other. It was a lovely thing to have done.
Tags: john cage | radio | elizabeth price | philomene pirecki |