Blogging about some of the things happening at Wysing, or influencing what happens at Wysing.
Tag: laure prouvost
Turner 25 October 2013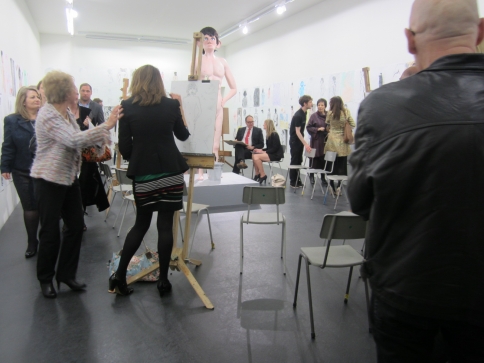 So, I had a great time in Derry for the opening of the Turner Prize. Laure Prouvost's installation is wonderful - the film 'Wantee' that she shot at Grizedale Arts last year, plus teapots and cups made there with the help of Adam Sutherland, and other objects from the film. The work is an extension of the fictional narrative she has been developing about her 'grandparents' and is a warm, humane and funny reflection on the relability of memory, and familial relations. It would be an amazing statement on behalf of the prize if such a modest artist, in terms of material and content, were to win it. I really hope she does. More likely to be doing that however is Tino Segal who is much more politicised but also very much accepted by the art establishment, his Tate Modern turbine hall commission being proof enough of that. His new work for the TP is clever and timely given the current economic situation alongside the resurgence of the art market - gallery attendents approach visitors and engage them in a converstion, specifically on the market economy in exchange for £2, paid to the vistor. We had a very enjoyable conversation/argument, skillfully directed by the gallery attendent who clearly knew what he was talking about. My mum told me afterwards that someone I'd had a brief exchange with is the well known Irish expert on Marxism, Eamonn McCann, which I didn't know at the time. The gallery was buzzing with similar lively exchanges - pretty much everyone in Ireland is very good at talking politics. Our discussion was split between people who thought the market economy would always prevail and others who thought that society needed a complete re-think. Lynette Yiadom-Boake's paintings were ok, but I didn't find them that interesting. And David Shrigley's life drawing class with giant plastic life model sculpture (pictured before I was told I wasn't allowed to take photos) was disappointing. Anyway, it was a great night, my parents who live near Derry enjoyed it, and I unexpectedly bumped into lots of nice people I knew.
Read about Laure Prouvost's residency at Wysing here, retreat here, The Department of Wrong Answers exhibition here, The Starry Rubric Set exhibition here and outdooor sculptures here.
Tags: laure prouvost |