Blogging about some of the things happening at Wysing, or influencing what happens at Wysing.
Tag: nottingham contemporary
Marvin Gaye Chetwynd 13 February 2014
Tags: nottingham contemporary |
Nottingham 13 February 2014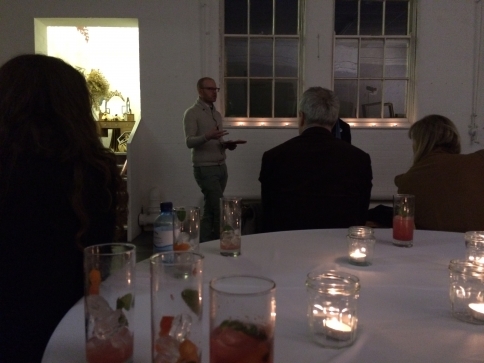 I haven't been doing much blogging because I'm trying to write Wysing's Arts Council's NPO application, alongside planning for all the different things that will happen during this year at Wysing. The NPO process has taken up a huge amount of time; thinking about the best approach and what will work for Wysing over the next four years. It certainly focuses the mind, and is a lot of writing. So it was really good to take two days out to be with colleagues as part of the Plus Tate network at a two-day meeting hosted by Nottingham Contemporary. These quarterly meetings are predominantly for Directors whose organisations are part of the network, and the subject of this one was Integrated Programming. There were some really fantastic speakers including artists and people from organisations outside the network and the meeting quickly made visible a major point of tension for a lot of organisations; how to deliver programmes that challenge audiences whilst at the same time encourage their participation. It's a real dilemma for those larger organisations that are required to hit very large visitor figures, and a situation that is only likely to get worse as funding shrinks and the pressures increase. I think that everyone is very conscious that the need for artists to make new work, and the need for individuals working in cultural organisations have the freedom to be creative, are two things that are being increasingly squeezed. What to do about it is another thing. But at least the conversations are happening. It was really good to get out and see some new things that are happening like the very interesting artists' run space Primary. Photo of Niki Russell giving an intro to their ambitious plans.
Tags: nottingham contemporary |
Magical 5 August 2013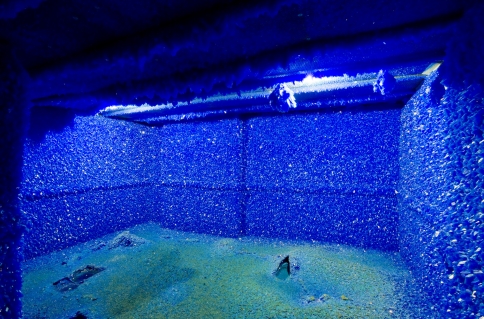 I haven't been doing any blogging recently because I've been off for a couple of weeks - mostly having a bit of a rest but I've also seen quite a bit of good art and wanted to recommend it. Top of the list is Emma Hart's solo exhibition at Camden Arts Centre. Emma was in-residence at Wysing last autumn and whilst here was encouraged by fellow artist Jonathan Baldock to try using clay. Since then Emma has been using Camden's ceramics facilities and has made the most amazing work – sculptural assemblages with ceramic, photography, and video that babbles away creating a chaotic and very funny soundtrack of confusing ramblings and mobile phone ringtones. The ceramic is mostly of tongues, oesophagus, teeth... and a water cooler. Every time I think about it, it makes me smile. It's a real leap forward in her practice and I strongly recommend you get along and have a look. I think I've liked every exhibition I've seen at Nottingham Contemporary and their current exhibition 'Aquatopia: the Imagery of the Ocean Deep' is no exception and really is very good indeed. It's a huge exhibition, minutely researched, covering historic and contemporary takes on the ocean as a place of myth and mystery. You could literally spend all day in there immersed in everything from Japanese Netsuke to Turner's 'Sunrise with Sea Monsters' and Gustave Doré's 'Rime of the Ancient Mariner'. I also made it up to the Yorkshire Sculpture Park as I was keen to have another look at Roger Hiorn's 'Seizure' which of course I hadn't seen since 2008, when it was first made. A new structure has been specially built to house it on a ten year loan. It was of course very different seeing it there as opposed to its first site in Vauxhall, but they literally chopped the whole bedsit up and transported it to YSP and so when you step inside it all looks exactly the same as it did then. Despite the move and the time elapsed, it still is an uncanny experience to step into a domestic space that has been transformed into something so magical.
Tags: emma hart | nottingham contemporary | roger hiorns |
Nottingham 20 May 2013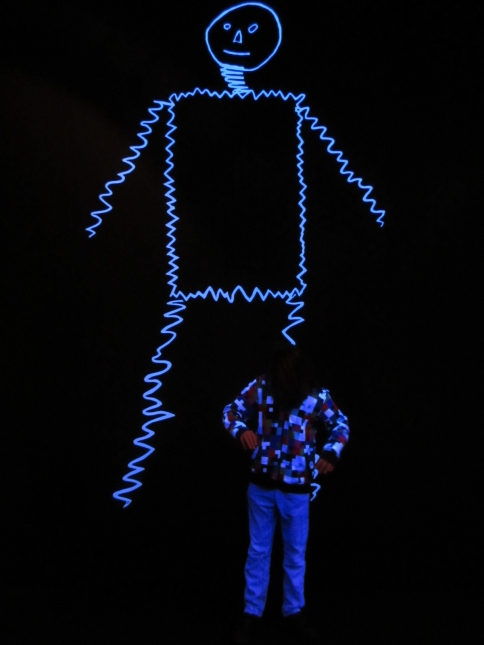 My children are so patient and put up with me dragging them all over the country at weekends to visit exhibitions and various art things. This weekend we headed off to Nottingham Contemporary to see The Universal Addressability of Dumb Things, curated by artist Mark Leckey and organised by Hayward Touring, the Curator of which is Roger Malbert who also happens to be the Chair of Wysing's Board. The show was really great. A joyous assemblage of stuff, from ripped Youtube videos to Egyptian coptic jars. It was all brought together in various groupings and there were so many objects, covering a huge range of subjects and references, that there were never-ending combinations and tangents to be found. It really was a celebration of life in all its crazy detail. My son was particularly taken with a painting charting the history of Science Fiction and then spent the rest of the weekend watching Sci-Fi films. My daughter liked Mark Leckey's giant inflatable Felix the Cat, though neither of them knew who Felix the Cat was. The drive back was an adventure too, as we took the back roads and wound our way around beautiful Nottinghamshire and Lincolnshire, even coming a across a line of around 30 vintage tractors, all apparently heading to some pre-arranged destination. This photo is from the memorable Gallery 1 at Nottingham Contemporary.
Tags: nottingham contemporary |
Nottingham 23 October 2012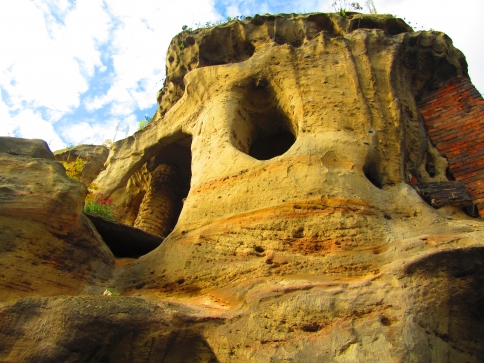 I had no idea that Nottingham Castle has caves beneath it; carved out of the soft sandstone it's built on. But it does. You can take a tour with a local enthusiastic historian who will tell you all sorts of things about the history of the castle which is in fact a replacement palace; the original castle having been raised by Oliver Cromwell. The caves were tunnels up to the castle, dungeons, and also on occasion, housing for plague victims. The 17th century mansion sitting on top of these organic and primitive shelters is unnervingly surreal; an apparent clash of logic meets chaos. I found the caves and their often desperate and gory history fascinating, but the main reason I went to Nottingham at the weekend was to see the exhibition Kafou: Haiti, Art and Vodou at Nottingham Contemporary. I always like visiting Nottingham Contemporary because every time I've been there have been loads of people in it. It seems to have found the right balance of programming that feels experimental, but at the same time relevant to both the city and the arts more widely. The show was very interesting in terms of the individual works which were created by artists who were often Vodou priests. So alongside paintings and sculpture there were the most amazing sequined flags some of which still held the stains of their previous ritualistic use; tears, blood and fire. The exhibition was in no way exoticising Vodou however, and all the artists included – working from the early 20th century until today – were given space and their work hung in the context of the history of Haiti since the slave revolt in the early 1800s. I didn't know that Haiti had been demonised by it French colonialists as a way to discourage other slave colonies from revolting; a legacy and identity it has lived with ever since. The works and accompanying wall texts reveal the history of the island and also the role of artists in how the religion of Vodou – an amalgamation of African spiritual beliefs, European spirituality and mysticism, Catholicism and Freemasonry - is made visible. It really is an intelligently curated exhibition of fascinating and unsettling work.
Tags: nottingham contemporary |