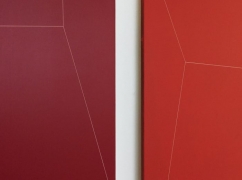 6 week evening course
Tuesday 4 January to Tuesday 8 February
7–9pm
Click here to book on Eventbrite.
Have you ever wondered what Minimal Art was all about? Why people are making such a fuss over virtually nothing? This evening course aims to unlock the mysteries of this seemingly simple form of abstract art and give the participants the knowledge to understand, enjoy and discuss Minimal Art with confidence.
Beginning with a brief look at its history: from its early beginnings to the radical Minimalism of the 1960s, the Post-Minimalists and the endurance of the minimal aesthetic in contemporary art today. The course will focus on how the careful selection and use of material, texture, surface quality, scale, composition and proportion are key to understanding how Minimal Art communicates, and there will be a series of practical exercises by which you can explore these concepts.