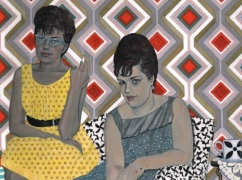 Two day weekend course
Saturday 20 and Sunday 21 November 2021
10.00-17.00
Wysing studio artist Soheila Sokhanvari will teach a two-day course on egg tempera painting and drawing which is an integral element of her practice. As part of the course, Sokhanvari will be teaching and covering the history of this technique for a broader understanding of the practice. During the course Sokhanvari will demonstrate to participants how to make and then paint with egg tempera, using traditional methods whilst also giving an insight into its use in a contemporary context, as well as teaching how to find and create your own pigments from nature.
Over the course participants will gain an understanding of the history and tradition of this ancient techniques and by the end of the course will have acquired the practical skills and knowledge to be able to prepare and use the materials independently.
During the two days participants will also be given a tour of Sokhanvari's studio at Wysing.