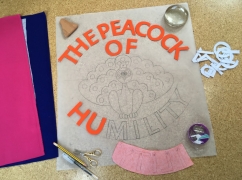 Two day course
Thursday 17 and Friday 18 February 2022
In this experimental and multi-faceted course, run over two consecutive days, Bettina Furnée and Caroline Wendling will lead you to create a unique appliquéd text on a personal item of fabric. Transform your pillowcase or work-wear, or make a banner or wall hanging from scratch!
On the first day Bettina will propose simple techniques and invite you to release your inner poet and create a short text or slogan. You will then design and draw the letters, and any additional shapes, on paper and cut these out in felt.
On the second day Caroline will guide you to hand stitch your design onto the fabric base using the techniques of appliqué and embroidery. We will end the course with a celebration of your text-based art pieces.