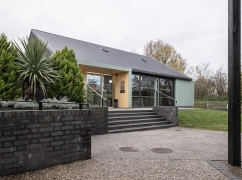 Co-working Space at Wysing
Monday to Friday, 10–5, 24 October to 11 December
We are piloting a co-working space at Wysing, on a pay-what-you-can basis, from 24 October – 11 December, coinciding with the dates of our autumn exhibition. Depending on uptake, we may continue in the New Year.
The co-working space at Wysing is open plan, wheelchair accessible, and has central heating, fast fibre-optic wifi, access to a tea and coffee 'honesty' bar and free parking.