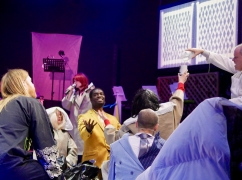 Hours: 37.5 hours per week
Working pattern & location: flexible working will be considered, however this role requires on-site working at least four days per week; occasional evening and weekend working is necessary due to event delivery.
Salary: £24,000 per annum
Contract: Permanent, subject to review in the first three months
Reporting to: Senior Programme Curator
The main responsibilities of the Assistant Curator are to provide programme delivery, care and support for artists as well as administrative support. The Assistant Curator works closely and often collaboratively with the Senior Programme Curator, Education Manager, Digital Producer, Director and wider team to ensure the effective development and smooth delivery of Wysing's programme.