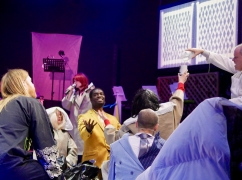 Hours: 37.5 hours per week
Working pattern & location: flexible working will be considered, however this role requires on-site working at least four days per week; occasional evening and weekend working is necessary due to event delivery.
Salary: Between £39,000 and £42,000 dependent on experience
Contract: Permanent, subject to review in the first six months
Reporting to: Director
The Deputy Director is central to the delivery of Wysing's ambitious activity. The Deputy Director works closely with the Director and Wysing's senior management team, contributing actively and creatively to the shaping and delivery of Wysing's sustainability, as well as overseeing organisational operations. Line managing a team of four people, in addition to freelancers and contractors, the Deputy Director supervises administration, site and resource management, financial management, staffing and governance.