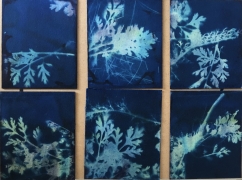 Two day weekend workshop
Saturday 19 and Sunday 20 June 2021
In this two day course 'Experimental Camera-less Photography', studio artist Emanuela Cusin will explore two techniques: the cyanotype printing and the chemigram process.
Participants will initially learn the traditional way of working with these processes; how to mix and handle chemicals; how sunlight effects the image formation on both cyanotype and chemigram prints; and secondly will be encouraged to explore and play with common household materials and chemicals, spices, plants, grass and more in order to create unexpected textures and compositions.
Safety notes: Please wear appropriate clothing. The two days will be held in a large, well ventilated room, with a maximum of 6 participants. Social distancing will be in place at all times, and separate workstations will be provided for each person. Please do not attend if you have symptoms of coronavirus or think you have been in contact with someone with coronavirus. If you cancel for this reason, your booking fee will be refunded.