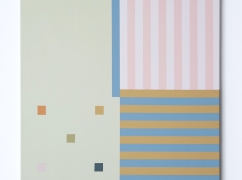 Two day weekend workshop
Saturday 14 and Sunday 15 August 2021
In this 2-day painting workshop, you will learn the basic creative processes of abstract, geometric painting, as a way of looking at and recording both objects and emotions. The workshop will be a hands-on and experimental approach, exploring different techniques, types of paint and colour, compositions, brush application and more, the end result being to create a painting on canvas. The workshop will also provide a brief history of abstract geometric art and looks into what led to the early beginnings of abstract geometry as a way of expression. At the end of the workshop, we will have a discussion among the group about the works created. All materials will be provided, and you will be able to take your paintings home at the end of the workshop.
Safety notes: This workshop will be held in Wysing's window room, which is large and well ventilated. Depending on Covid-19 restrictions, social distancing may still be in place. Please do not attend if you have symptoms of coronavirus or think you have been in contact with someone with coronavirus. If you cancel for this reason, your booking fee will be refunded.