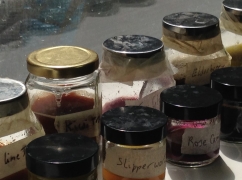 Introductory workshop
Friday 11 June 2021 10.00-17.00
Wysing studio artist Caroline Wendling presents an outdoor workshop demonstrating alternative ways of making inks using the natural environment and foraging. You'll spend part of the workshop learning about natural materials you can use to make inks, how to brew them, and then you'll spend time drawing with the inks you've made.
Skills: experimentations, initiative and some chemistry.
Safety notes: please wear clothing suitable for outdoor weather and sensible footwear. Part of this class will be held in a large, well ventilated room with a maximum of 6 participants. Social distancing will be in place at all times, and separate workstations will be provided for the ink making process. Please do not attend if you have symptoms of coronavirus or think you have been in contact with someone with coronavirus. If you cancel for this reason, your booking fee will be refunded.
Materials: Please bring paper or a large sketchpad, a pen and pencil, a bag to put your foraged items in and a pestle and mortar. Everything else will be provided for you.