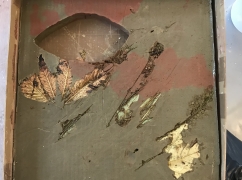 Two day weekend workshop
Saturday 22 and Sunday 23 May 2021
Booking for this workshop has now closed.
Wysing studio artist Florian Roithmayr will lead a two days course on moulding and casting materials.
Moulding and casting are traditional sculptural techniques, but the imprint, the gesture informing moulding and casting can also be found in other art techniques and even in areas not often associated with art making.
This two-day course will explore different processes based on the imprint, of the coming together of different matter and the consequences of their exchange left behind when they come apart again.
Over the course participants will work with basic materials like clay, plaster, concrete, wax and Papier-mâché to develop an experience of the relationship between mould and cast: of form-giving and form-receiving. These materials and processes will be used in speculative, unpredictable ways to allow accidents and chance occurrences, allowing and inviting contaminations, reversals, decay and destruction. The focus will be on making through process rather than through resemblance.
Course content: This is a re-run of Florian's course held in October. For those of you looking for a follow up development course, Florian is working on plans for that and we'll announce it soon.