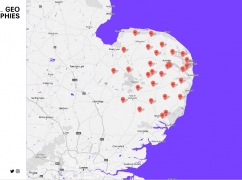 Wysing is the chair and coordinator of the East Contemporary Visual Arts Network (ECVAN); a group of 19 contemporary visual arts organisations and individuals based in the eastern region of England. The network delivers collaborative projects, exploring new ways of working together to support artists, the arts infrastructure and reach new audiences for art in new ways.
We are pleased to announce that we have received funding from ACE to deliver 'New Geographies' from 2017- 2020. This project has now been launched and you can follow the details on the dedicated website here.
Since 2009, ECVAN has achieved a successful programme of exhibitions, events, public talks, training workshops, staff development opportunities, knowledge sharing events, and the production of a print portfolio in 2011 supported by a network of patrons and region wide events.
ECVAN is part of the national Contemporary Visual Arts Network (CVAN) which represents and supports a diverse and vibrant visual arts ecology, embracing a broad range of artistic and curatorial practice across the nine English regions.