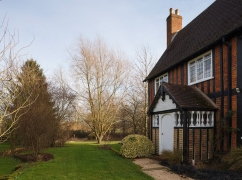 Wysing Grange Farmhouse
In 2014 artist Giles Round re-imagined the interior of our farmhouse, Wysing Grange, commissioning new artist designed wallpapers and furnishings, and commissioning and selecting works for the house as part of the exhibition he curated, The Influence of Furniture on Love.
Artists who now have work permanently installed in the house include An Endless Supply, Ruth Beale, Celine Condorelli, Jessie Flood-Paddock, Philomene Pirecki, Laure Prouvost, Giles Round, Cally Spooner, The Grantchester Pottery, Mark Aerial Waller and Neal White.
Download the list of works as a PDF here.