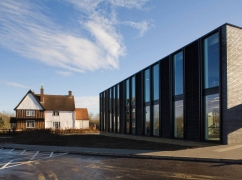 Wysing was established in 1989 and completed a £1.7million capital development project in 2008. The centre has ten buildings including studios, live-work space, specialist new media facilities, a large gallery, education facilities and a 17th century farmhouse used as accommodation for residencies and retreats.
Wysing is developing as a working campus, focussing on research and development and providing alternative environments and structures for artistic production, experimentation and learning.
In 2010 Wysing was invited to join Plus Tate; one of only two of the twenty organisations in the network whose work is focused on process and production rather than on the presentation of extant works.
Alongside Plus Tate, Wysing has a number of dynamic partnerships in place with organisations including the Royal College of Art, the Royal Society for Arts Manufacture and Commerce, the British Council, the Contemporary Art Society, Anglia Ruskin University, Cambridge University and the Contemporary Visual Arts Network.