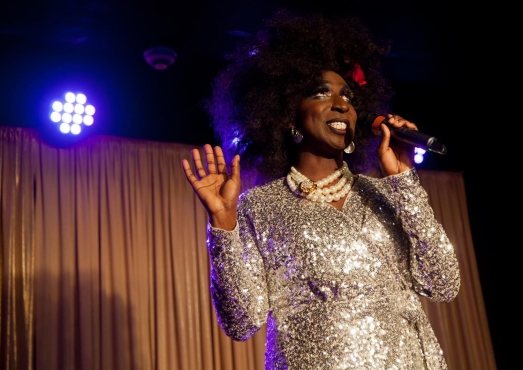 This unique Club Urania is a collaboration with brilliant disability arts festival I'm Here, Where Are You? Bringing you a night of incredible art from disabled creatives.
Our April line up features:
Bibi June - a poet and performance maker whose work focuses on queerness, climate justice and post-apocalyptic stories. They write and co-produce award-winning queer horror podcast 'Folxlore', and were runner-up for the Edwin Morgan Poetry Award 2022 for their fourth pamphlet, 'Kinsey Scale for the Emotionally Fragile Queer.
Ebony Rose Dark - an all singing, all dancing, lip syncing, story telling, miming VIP, visually impaired cabaret performance artist! Ebony Rose Dark is known for her performances around disability, ableism, racism, and relationships with the LGBTQ+ community at The Royal Vauxhall Tavern's Bar Wotever.
Vali Mahlouji - an art curator. He is founder of Archeology of the Final Decade (AOTFD), a non-profit research and cultural platform that recovers traumatised, violated, erased, dispossessed and obscured histories. His projects have been exposing genocidal or repressive social policies through cultural research over the last decade and a half.