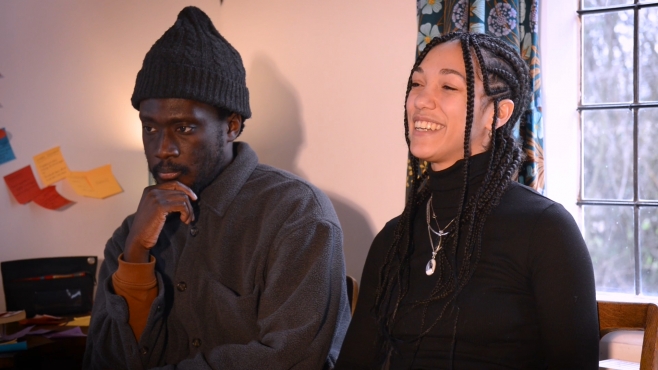 Desktop Studio Visit: Maëva Berthelot and Coby Sey
Tuesday 17 May, 7pm
The studio visit will be streamed live on our Wysing Broadcasts website at this link.
To register for this free event on Eventbrite, please click here.
A Twitch thread will accompany the livestream. If you would like comment or ask questions on this thread, please create a Twitch account here.
Join us for a very special Desktop Studio Visit to celebrate our gallery exhibition 'A Tender Ascent'.
Maëva Berthelot and Coby Sey will be joined by Wysing's Senior Curator of Programmes, John Eng Kiet Bloomfield, to discuss their exhibition 'A Tender Ascent' and the research and influences behind the collaboration. Using a number of references from the project as a framework for an informal chat, they will touch on topics including the role of chance, role reversal and collaborating during Covid-19.
The in-conversation event will be followed by an opportunity for questions from the audience.
To find out more about 'A Tender Ascent', visit the exhibition website page here.
Access Information
This event will be captioned. Please get in touch with us to let us know if there is something you need to be able to participate in this event, by emailing John Bloomfield john.bloomfield@wysingartscentre.org
Biographies
Maëva Berthelot is a choreographer, performer and teacher whose mode of working unfolds along the threshold between experimental, performative and collaborative approaches. After graduating in 2003 from the Paris Superior Conservatoire of Music and Dance, she has collaborated with artists and companies such as Emanuel Gat, Ohad Naharin, Clod Ensemble, Sharon Eyal, Rambert and spent six years as a senior member with Hofesh Shechter Company, contributing creatively as an original cast member in numerous pieces and as a teacher. Her work intends to instil a dialogue between material and immaterial realms, drawing attention to the tension between visible/invisible, conscious/unconscious and rehearsed/improvised. Whilst her research is rooted in a movement practice which is an ongoing inquiry into the themes of consciousness, transformation, healing, death and rebirth, her interest lies in creating cathartic spaces in which the emotional and sensational states related to loss, grief and change can be explored, processed and assimilated into conscious experience.
Coby Sey is a vocalist, musician and DJ, who, after years spent buzzing around the DIY artist circuitry of South East London, has developed a distinctive presence as a performer and producer offering a shifting, disorienting vision of club music.
A long-time collaborator with Mica Levi, Tirzah, Babyfather, Klein and Kwes, Coby's recorded work– as best evidenced on the Whities 010: Transport for Lewisham 10′′ – spans the realms of live instrumentation, sample-based productions and experimental music, melding recognisable motifs of hip hop, drone, jazz, grime and more into a dubbed-out anaesthesia. Live, these dreamlike compositions are imbued with a heavy, uneasy dancefloor energy, often abetted by live vocals as well as saxophone interjections c/o regular cohorts Ben Vince and Calderwood.
Coby's open-door approach to sharing and making music stretches to his work with London collective Curl, who release records and host events with a collaborative, improvisatory approach, as well as a regular slot on NTS which offers a portal into his appealingly murky musical world.