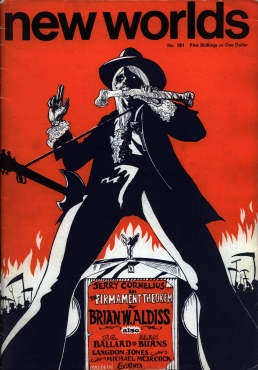 Dr Uma Breakdown In-Conversation with Angela YT Chan and Dr Tom Dillon
6pm, Wednesday 16 November
The event will be streamed live on our Wysing Broadcasts website at this link.
To register for this free event on Eventbrite, please click here.
Join us online for a special in-conversation event to celebrate Uma Breakdown's gallery exhibition Earth A.D. Uma has invited researcher, curator and artist Angela YT Chan and Dr Tom Dillon to discuss systems of archiving, collapse and repair and queer counter-culture science fiction.
Angela YT Chan will share how self-archiving current climate experiences resists future data gaps in our inherently political climate histories.
Tom Dillon will deliver a short presentation on the science fiction writer Michael Moorcock, focusing on his relationship with 60s counterculture and queerness.
To find out more about 'Earth A.D.', visit the exhibition website page here.
Access Information
This event will be captioned. Please get in touch with us to let us know if there is something you need to be able to participate in this event, by emailing John Bloomfield john.bloomfield@wysingartscentre.org
Biographies
Uma Breakdown
"Hi I'm Uma, an artist interested in animals, horror, queer feminist literature, and games design. Everything I make is about some combination of love, grief, hallucination, and an excess of joy. In 2020 I finished a PhD about The Evil Dead, care, trans* écriture feminine, and disaster. With Sammy Paloma I make video games about the divine and occult providence of transfemme existence. I live in Gateshead, UK.
Recent projects include "The Speculative Dismemberment of Agent Leon Kennedy" for Market Gallery (Glasgow, 2022), "Take The Moonlight by The Tail" for Arebyte Gallery (London, 2021), and "Wastework" for TEXTUR (Berlin, 2021).
Imminent things include group shows "Practicing Futures While Grieving in Eight Movements" at Klosterruine (Berlin, 2022) and "Hinterlands" at Baltic (Gateshead, 2022)."
Angela YT Chan
Angela YT Chan is an independent researcher, curator and artist specialising in climate change. Her work explores power in relation to the inequity throughout the history of the climate crisis, through self-archiving, rethinking geographies and speculative fiction. Her recent research-art commissions focus on water scarcity, conflict and everyday experiences through climate framings and communications. Since 2014, Angela has produced curatorial projects and workshops as Worm: art + ecology, collaborating with artists, activists and youth groups. She co-directs the London Science Fiction Research Community. Angela is also a research consultant, having worked in international climate and cultural policy and on climate and sustainability projects for major cultural institutions.
Tom Dillon
Tom Dillon is a researcher whose work investigates the politics and aesthetics of speculative fiction magazines. They recently finished a PhD thesis on the speculative fiction magazine New Worlds in the 1960s. Tom is a founding member of Beyond Gender, a research collective which looks at the representation of gender in relation to race, sexuality, and class in science fiction; and is a former director of the London Science Fiction Research Community.