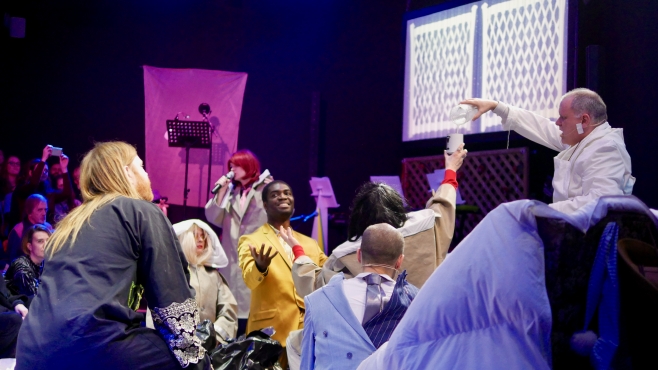 An opera by artist-musicians,
Ravioli Me Away.
Live Broadcast: 30 March, 12 noon, ResonanceFM
Performance: 30 March, 6–8pm (sold out)
Join us for the performance of The View From Behind The Futuristic Rose Trellis, a bold and ambitious immersive live work and exhibition by Ravioli Me Away (Sian Dorrer, Rosie Ridgway and Alice Theobald). The performance will premiere on Saturday 9 February 5.30–7.30pm (sold out) and will be repeated on Saturday 30 March 6–8pm (sold out).
The surrealist, multi-media opera will take the audience on an audio enhanced journey as The Protagonist (the soul of humanity) searches for a body that can give it meaning. The Protagonist expresses the paradoxical sentiment that everyone is the main character in their own life. The View From Behind The Futuristic Rose Trellis is a colourful, comi-tragic take on individual and collective aspiration, explored and expressed through a genre-diverse score and the ever-present voice of The Narrator, a soprano singer situated amidst the audience.
Access
If you have questions about access needs for the performance or the exhibition, please email Wysing's Head of Operations, Ceri Littlechild, on ceri.littlechild@wysingartscentre.org
Under 12s will not be admitted into the performance. Under 16s must be accompanied by an adult ticket holder who is responsible for them at all times.