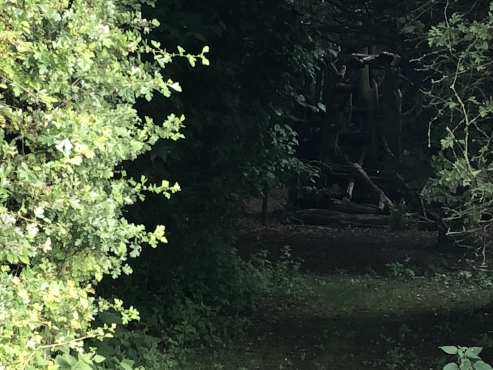 From 2 July
Caroline Wendling presents Hypoteinousa, a Test Space commission for Wysing Arts Centre. Click here to experience the work online.
Taking its title from the Greek word meaning 'stretching under',
Hypoteinousa is a sound walk through
Wysing's rural landscape. In dialogue with the nineteenth-century science fiction novel Journey to the
Centre of the Earth (Jules Verne), Hypoteinousa draws Wysing's topography: a landscape shaped by its wildlife, ancient geologies, and the
many voices of Wysing's artists and
their interventions at the site.
Visitors to Wysing may listen to the
work as they explore the physical site.
Hypoteinousa is available to stream
from podcast apps and on our Wysing
Broadcasts website.

Please ask for headphones and/or
a media player at reception if required.
Access Information
Text and large-text versions of the work are available at our reception area on site, and can be downloaded in PDF format from our Wysing Broadcasts site.
Artist Biography
Caroline Wendling is an Associate Artist and studio holder at Wysing Arts Centre.
Caroline Wendling was born in France and moved to Britain after completing her art studies at ESAD, Strasbourg and Edinburgh College of Art. Caroline's work explores ideas of place and belonging through layered projects that draw on history and explore local myths, inviting re-imaging of sites. Daily rural walks from home to studio, at Wysing Arts Centre, feed her multidisciplinary practice.
She creates artworks that are fragile and transient in the form of sensory walks/performances and events, blurring notions of audiences and performers. She also makes drawings, prints, objects and, more recently, moving images. She often works with collaborators, specialists in their fields such as children, chefs, musicians, foresters, and perfumers.
Commissioners include Kettle's Yard, 2019, Whitechapel Gallery, 2019, Wysing Arts Centre, 2019. In 2020, she was the recipient of a 40 days residency at Nene Park, Peterborough. Community projects include Peterborough Present 2018-2020, Bedford Creative Arts 2019-2021 and Deveron Projects 2014-2021. In 2016 she received the Commendation for Art in Public Spaces for White Wood from the Saltire Society, Edinburgh.
Supported by the Cultural Recovery Fund and Arts Council England