Blogging about some of the things happening at Wysing, or influencing what happens at Wysing.
Archive: February 2013
Visitors 27 February 2013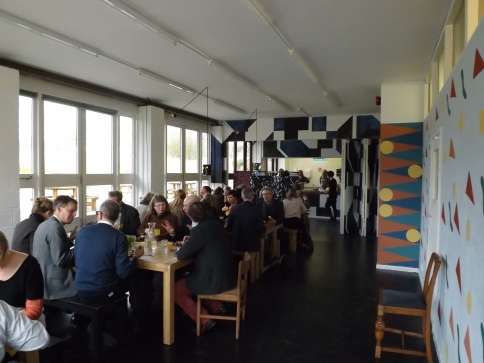 It was wonderful to have many Directors and Curators from across the UK at Wysing for the annual Plus Tate residential which was focussed on embedding artistic research into public programming. I really enjoyed hearing from Annie Fletcher, Curator at Van Abbemuseum. What they are doing there is seriously inspiring - making visible the focus of their curatorial discourse in engaging and inspiring programming. It was great to hear too from colleagues from the Banff Centre and Townhouse, Cairo. Learnt a lot, as ever, and really loved The Grantchester Pottery's transformation of our Window Room. If you ever get the chance to work with Giles Round - grab it. The man is a generous and genial genius!
Tags: plus tate | the grantchester pottery |
Intensely Productive 17 February 2013
I've just finished reading I Love Dick by the American artist and writer Chris Kraus. It's a book that fearlessly exposes a period of crises in her life when she faces up to her limitations as an artist, marriage problems and her impending middle age. She does this in a very particular way - by spending four intense days obsessively writing letters to someone - Dick - she meets at a dinner party. Her husband, a successful academic, joins her in the letter writing, intensifying the feelings and providing the driving force behind all that occurs later in the book. What they do then, extraordinarily, is give the object of her obsession all the letters – 80 pages of them, followed by another 40 pages – proposing that they make a joint art work. The act is initially met with bemused silence. The letters, interspersed with contextualising texts, cover heightened emotion, personal histories, self analysis, mental illness, philosophy, art theory and criticism, and make reference to artists working in the US at that time, the 1990s, from Kathy Acker to Mike Kelley. During the period the book recounts Chris Kraus was in contact with some of the most exciting and interesting artists, writers and thinkers working in the US at the time and the second half of the book includes factual texts noting where she; New York, LA, various parties and exhibition openings. What I found so interesting about this book is not only that Chris Kraus was willing to embrace an exposing and humiliating loss of dignity, but that she deliberately generated a period of emotional intensity as way to move her work as an artist forward. It started me thinking about intense circles of artists - at times Chris Kraus' letters reminded me of Dora Carrington's pleading letters to Lytton Strachey - and like the Bloomsbury group, how these artistic circles support and enable those within them to enter into an emotional intensity which in turns enables them to make their best work - a heightened period of working, often at a high personal cost to those involved. I Love Dick is an important work of feminist writing, but it's also extraordinary artistic achievement.
Tags: chris kraus |
The Truth 13 February 2013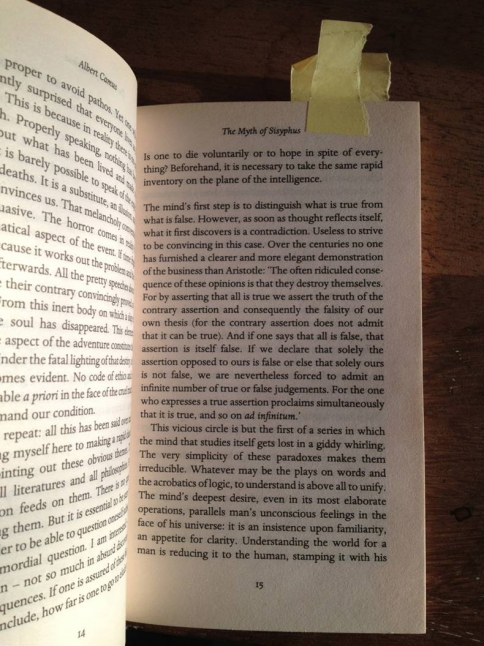 Thanks to Philomene Pirecki for sending this page from Camus' The Myth of Sisyphus where he references Artistotle's writings on the truth paradox. This is exactly what Alfred Tarski was aiming to address, and which led to the creation of his T sentences - A and B is true if and only if A and B is true, etc. All starting points for our forthcoming residencies which, in case you don't already know, includes some fantastic artists who will be living and working at Wysing over the next year - Anna Barham, James Beckett, Michael Dean, Cécile B Evans, David Osbaldeston, Seb Patane, Charlotte Prodger and Florian Roithmayr.
Tags: albert camus | alfred tarski | philomene pirecki |
Majestic 10 February 2013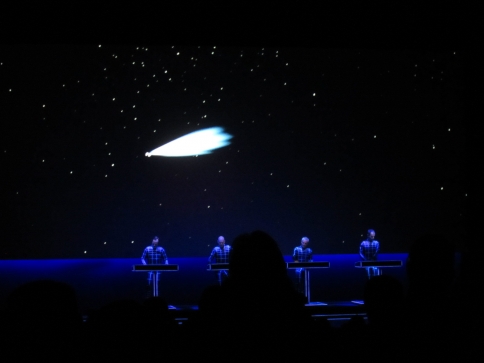 Tags: kraftwerk | tate modern 6 feb |