Blogging about some of the things happening at Wysing, or influencing what happens at Wysing.
Archive: August 2013
A Wysing Kind Of Week 25 August 2013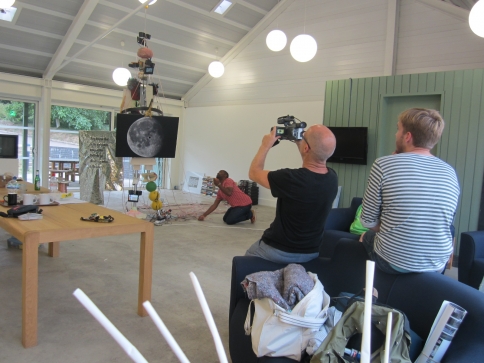 When I was first offered the job of Director of Wysing in January 2005 I was dithering about whether to take it. It got to the point where I had to decide and one Sunday drove out, on a cold and muddy day, for a look around and second opinion. I was surprised to run into artists Giorgio Sadotti and his partner Elizabeth Wright when I got there and it turned out that Elizabeth was just coming to the end of a period of research at Wysing. Both of them were very enthusiastic about the potential of the place and encouraged me to take the job. So I did. I might not have if I hadn't made that visit. Eight years later Giorgio came back to install his Monster - a Frankenstein of a piece made up of 51 contributions of body parts, from Georgina Starr's bubblegum brain to Fiona Banner's pebble left testicle to David Burrows' glittery colon (David is also performing in our festival this year). It has a hysterical – literally - soundtrack of extracts from Hair the musical, bits of Mozart and techno, and various bodily sounds. You'll see/hear it if you are coming to the festival on 31 August. Anyway, it was lovely to see Giorgio and turned out to be a day of unexpected reunions. It came at the end of what I think might have been one of the most enjoyable weeks I have spent at Wysing in those eight years… On Monday we had the five artists working on our Defining Pi programme, working with Sam Aaron and Rachel Drury from Cambridge University Computing Lab, learning computer coding. Artist Emma Smith was running an evaluation session with our 14 Leverhulme Fellows who were coming to the end of their six week residency. And Aaron Angell was also here picking up the work he had just made in our ceramics studio ready to go to Poland for a show curated by Tom Morton. On Tuesday we had more young people work-shopping for another programme, Circuit. The Leverhulme Fellows were installing their exhibition and two coach loads of children doing the Arts Award visiting, were charging around the site. On Wednesday Matt Williams from the ICA came out to meet with Keren Cytter, Keira Fox, Charlie Feinstein and David Aird, all of whom are also in-residence and making new work that will be performed in the festival and at the ICA, their rehearsals in Amphis sounding amazing - very loud and seriously intense as you might expect. On Thursday, Sarah from Aid and Abet came out for a catch-up, and the Leverhulme Fellows' - very good indeed - exhibition opened in the evening. Lotte and Gareth also spent all day with them doing crit sessions around the new works they had made, in the gallery. On Friday Giorgio ,came to install the Monster. And Nicholas Brooks, an artist whose work we had seen in a recent Aid and Abet show, came out for a meeting as we're supporting him by letting him have use of the site and accommodation for a new film he's making. And the lovely Jess Flood-Paddock set up her tent in the garden, as the farmhouse is bursting at the seams, so she can make some ceramic for a show about to open at Rowing curated by another Wysing alumni Ruth Beale. Plus Gustav Metzger and the artist Ella Gibbs, who is helping him get started with making new paintings, stopping for chats every so often. Ella also reminded me that she did an artists' talk at Wysing in 2005. The week made me appreciate how far Wysing had come in all that time and how lucky I am to have such great people working here, enabling all of this stuff to happen. The special thing about Wysing I think is that people come back and overlap and do different things and use the site and contribute and make it work. Amazing. See you on the 31st.
Tags: untagged
Magical 5 August 2013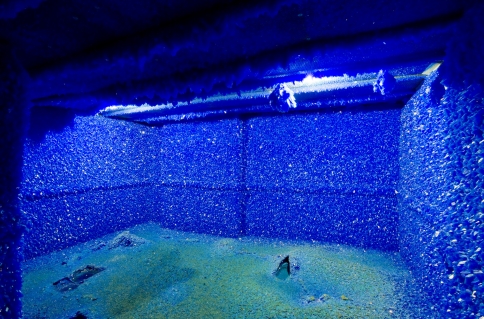 I haven't been doing any blogging recently because I've been off for a couple of weeks - mostly having a bit of a rest but I've also seen quite a bit of good art and wanted to recommend it. Top of the list is Emma Hart's solo exhibition at Camden Arts Centre. Emma was in-residence at Wysing last autumn and whilst here was encouraged by fellow artist Jonathan Baldock to try using clay. Since then Emma has been using Camden's ceramics facilities and has made the most amazing work – sculptural assemblages with ceramic, photography, and video that babbles away creating a chaotic and very funny soundtrack of confusing ramblings and mobile phone ringtones. The ceramic is mostly of tongues, oesophagus, teeth... and a water cooler. Every time I think about it, it makes me smile. It's a real leap forward in her practice and I strongly recommend you get along and have a look. I think I've liked every exhibition I've seen at Nottingham Contemporary and their current exhibition 'Aquatopia: the Imagery of the Ocean Deep' is no exception and really is very good indeed. It's a huge exhibition, minutely researched, covering historic and contemporary takes on the ocean as a place of myth and mystery. You could literally spend all day in there immersed in everything from Japanese Netsuke to Turner's 'Sunrise with Sea Monsters' and Gustave Doré's 'Rime of the Ancient Mariner'. I also made it up to the Yorkshire Sculpture Park as I was keen to have another look at Roger Hiorn's 'Seizure' which of course I hadn't seen since 2008, when it was first made. A new structure has been specially built to house it on a ten year loan. It was of course very different seeing it there as opposed to its first site in Vauxhall, but they literally chopped the whole bedsit up and transported it to YSP and so when you step inside it all looks exactly the same as it did then. Despite the move and the time elapsed, it still is an uncanny experience to step into a domestic space that has been transformed into something so magical.
Tags: emma hart | nottingham contemporary | roger hiorns |