Blogging about some of the things happening at Wysing, or influencing what happens at Wysing.
Archive: September 2013
Snow Is White 29 September 2013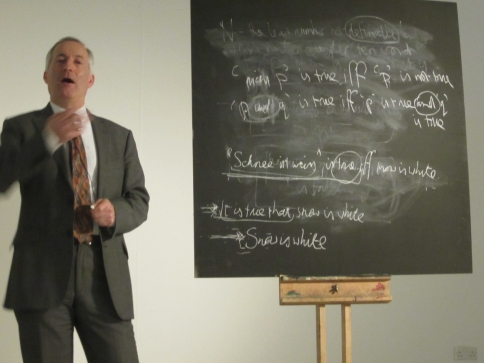 Another fantastic day at Wysing yesterday - five hours of informative talks woven together by wonderful artists' films. It was brilliantly curated by Lotte and Gareth and the whole Wysing gang were out in force - live-streaming the event, running the cafe and generally making the whole thing run smoothly. And, as ever, a really fantastic and engaged audience. Central to the whole event was the absent Polish logician Alfred Tarski (1901-1983) whose work on developing a method to realise the truth - which he did through creating a meta-language that speaks in relation to an object-language and which I mentioned in a blog entry from last October here - has been central to our whole programme this year. We were very lucky indeed to have Michael Potter, Professor of Logic at the University of Cambridge, talk about how Tarski developed his theories and the importance of the truth to logicians. His talk was a real highlight for me and I loved the idea of logicians across the centuries, puzzling over endless paradoxes in search of clarity. For me, clarity came, as it so often does, in the art - Wojciech Bruszewski's 'Matchbox' 1975 being the perfect end to the day but also wonderful to screen Anna Barham's 'Argent Minotaur Slept' 2012. Anna was in-residence earlier this year and, as it happens, was also taught by Michael Potter when she studied philosophy at Cambridge. No doubt we'll be posting from photos from the day on our Facebook page soon. Next up is a talk on folk traditions and superstition, this Thursday, 3 October, more info here.
Tags: alfred tarski |
Sunny Lunch 24 September 2013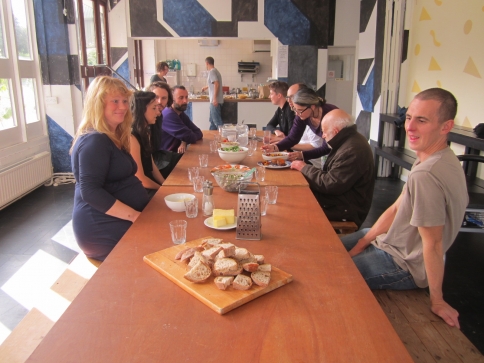 It's Gustav's last week at Wysing and we'll be sad to see him go. And Ella Gibbs who has been helping him over the summer and who organised this very nice lunch, with help from studio artist Caroline Wendling. Good of course to also have new arrivals - residency artists Rupert Norfolk, Cecile B Evans, James Beckett and Seb Patane... Michael Dean will be joining us soon as he's in Bristol this week installing a solo show at Arnolfini. Another immanent new arrival is Lotte's baby! Not long now. We'll all be here on Saturday for our launch event which is sounding seriously interesting and intense. Gustav is staying for that too. Hope you can join us for some or all of it, full schedule here.
Tags: gustav metzger |
Talking Time 15 September 2013
I've spent quite a bit of time in Addenbrookes hospital this week as Gustav Metzger, who has been working in our live/works studio over the summer, had a fall earlier in the week. He's ok, nothing broken. In fact the doctors say that he is remarkably good health. He certainly looks a lot healthier than the other people on his ward. I don't think I've ever met anyone as determined as Gustav. The easiest thing for him to do would be to return home to London, as he's nearing the end of his residency anyway. But he's not having any of it and has been arranging for people to visit him at Wysing next week to talk about planning for upcoming shows. He has a lot on in fact – he's taking part in the show on iconoclasm at Tate Britain which opens later this month and then features heavily in the exhibition 'Damage Control: Art and Destruction since 1950' which opens at the Hirschhorn Museum in Washington next month. That show is being curated by Hirschhorn Chief Curator and Deputy Director Kerry Brougher. When Gustav told me about this, I was instantly swept back in time to 1998. At that time I was working at Modern Art Oxford and Gustav was having his first major solo exhibition in the UK there. And Kerry Brougher was the Director at the time. I had slightly forgotten about Kerry as it was such a long time ago, and he wasn't Director for long, and then I left in 1999 to go to South London Gallery. But sometimes these little jolts from the past throw you a bit. I remember that as part of his show Gustav did an acid painting performance at the opening, but he can't remember that and thinks it was a welding performance of one of his history photographs. Anyway, here is now fifteen years later and living at Wysing. Funny that he's also working with Kerry now. We've all really missed him and I think he's right to see the residency through, we just need to give him a bit more support to make sure he doesn't fall again. Oddly enough, it has been a pleasure to visit him in hospital. Away from day to day work pressures there's more time to just sit and talk. He seems to quite like it there and, as you might expect, he has a lot of very interesting things to say.
Tags: gustav metzger |
Space-Time 2 September 2013
Still feeling tired and a bit emotional from Saturday. It really was a brilliant festival - there was so much good stuff on the programme, so many amazing people involved, and lots of really great people came to see it. The weather was perfect, and everyone who had volunteered for a couple of hours in exchange for a free ticket were brilliant. The festival had sold out to our maximum capacity – as all three stages were indoors and not huge – and it felt buzzy but not so packed that people couldn't get into stages. I didn't get to see so many performances this year as I was managing the gallery stage, looking after performers, helping out on reception and dealing with a lot of enquiries. Too many things really. By the end of it I think my brain had just about melted. Anyway, what I did see was just incredible – Cut Hands, Venetian Snares, Blood Music, a bit of Maria & the Mirrors, Vindicatrix and Keren Cytter, Nochexxx Russell Haswell, Benedict Drew and Meta-eX. All amazing stuff. But very frustrating that I had to miss so many other things and that I didn't have much time to chat to anyone. I was particularly sad to miss Luke Abbott who was our first ever musician-in-residence last year and had come back with newly worked up material. And it was disappointing to be told as soon as I got there in the morning that Preslav Literary School was stuck in Berlin as his flight had been cancelled. And then shortly after, a call from Plugs to say that their drummer had put his back out and couldn't play. So, some frantic last-minute re-jigging of the schedule and re-printing of programmes right at the start of the day. But everything else ran smoothly for most of the day, although we had to put a lot of effort into getting the gallery stage back on time towards the end so that there was enough time for Venetian Snares to close the the whole thing with an hour-long set. Which was suitably impressive. It was an intense day so after waving off friends who were heading home, it was lovely to be in the quiet of the farmhouse for a few hours - cooking and chatting to Aaron Funk and a couple of musicians from Taylor Birds about music, art, Winnipeg, friends, films and snow. Having few days off now and enjoying seeing everyone's photos and video clips of the day online, some very funny indeed - chair dancing?!
Tags: #space-time13 |