Blogging about some of the things happening at Wysing, or influencing what happens at Wysing.
Archive: November 2014
Perfume Genius 30 November 2014
I was lucky enough to get tickets for Perfume Genius (Mike Hadreas, someone I have mentioned in this blog before) at Islington Assembly Hall last week, which was the last night of his UK tour. He's based in New York, where he went to art college before taking to writing, mostly very introverted songs about fragility, insecurity, self-doubt and discontentment. I can't seem to get into books at the moment, but I can get completely immersed in live music, and this show was very special indeed. It was sold out and the venue was really nice, not too big, and I was right at the front. Every single person there was a devout Mike Hadreas fan, hanging onto his every word. I think he was bit taken aback at how quiet everyone was during the first song and only when that had finished, and the whole place erupted into shouts and clapping, did he realise how appreciative the crowd were. It was like that throughout the whole set; breathless silence and concentration followed by shouts of encouragement and applause. He's an amazing songwriter, often compared to Elliot Smith, and an unpredictable and thrilling performer. Towards the end, someone shouted 'we love you Mike' and he said 'I love you too' and everyone meant it. I was very happy to have been there.
Tags: mike hadreas |
Lalbagh 24 November 2014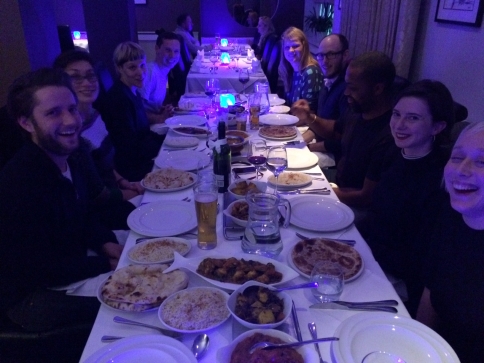 We had a really nice dinner at the local Indian restaurant, Lalbagh, in Bourn last week. Absolutely delicious food and great company - current artists-in-residence and some Wysing staff.
Tags: bourn |
Koyaanisqatsi 16 November 2014
I haven't been blogging for a while, or doing anything at all really, and have missed so many things I wanted to go to, as I've been unwell. But on Friday evening I went to see Philip Glass and his Ensemble at Cambridge Corn Exchange with some of our lovely artists-in-residence. This was a last minute decision and one that was down to the helpfulness of Corn Exchange staff; it was sold out but they managed to find some space for us right at the front. It turned out to be an incredible night. The evening included an extract from the soundtrack to the film 'Koyaanisqatsi' which just amazed me because I first encountered that film when I was 16 or 17 and remember it having a huge effect on me; watching it on my own in a little house in rural Northern Ireland. And there I was, 30 years later watching Philip Glass himself playing it right in front me! Glass in his late 70s, as are some his long term collaborators in the Ensemble, Jon Gibson and Michael Riesman, but all of them are still incredibly dexterous and proficient. Some of the pieces were unbelievably fast and involved circular breathing and there was one section where Lisa Bielawa, who was the only person contributing voice, had to repeat the same phrase, in rapid succession, for about 20 minutes. It was amazing that her voice held the same unwavering clarity throughout. And Jon Gibson's solo on 'Facades' was so gentle and tender, the skill was just incredible. Jon Gibson in fact played at the premier of Terry Riley's 'In C', in the late 1960s, a work that was performed by the Invisible Polytechnic Orchestra at our music festival in 2011. Anyway, the whole concert was a much needed joyous and uplifting experience. I think it might be time to watch 'Koyaanisqatsi' again. It means 'life out of balance'. Here's an extract.
Tags: philip glass |