Blogging about some of the things happening at Wysing, or influencing what happens at Wysing.
Archive: February 2015
The Anthropocene 23 February 2015
So, there's a lot of discussion at the moment about the Anthropocene - a word that has been popularised by the atmospheric chemist, Paul Crutzen, to describe the geologic time since human's have made an impact on the Earth's eco-systems. Martin Rees referred to it in his talk at Wysing on Saturday. Martin is a cosmologist and astronomer who heads up a research department withn the University of Cambridge called The Centre for the Study of Existential Risk. The Centre is looking at what a future Earth will look like, post human. In fact they postulate that Earth has plenty of time left, despite extreme environmental changes, and that future life is more likely to be machine, or artificial intelligence, rather than human. Saturday's event was really inspiring and brought together a lot of this kind of thinking, taking the theme of The Multiverse as a starting point. I'm really looking forward to staying in this headspace as I head to Amsterdam this week to attend Sonic Acts which is looking at the "new geological epoch" of the Anthropocene. There are some amazing people speaking including Tim Morton, Graham Harman and Douglas Khan, alongside some brilliant live music, including by Wysing's Space-Time festival 2014 highlights Karen Gwyer and part wild horse mane on both side. Plus I'll have time to check out Ed Atkins' show at the Stedeljik and Michael Dean's show at De Appel. Sonic Acts website here.
Tags: anthropocene | sonicacts |
Joey Fourr 22 February 2015
Very pleased that Joey Fourr will be appearing on the Amphis stage at the festival this year alongside some other great bands including (click to go to Soundcloud links) Ravioli Me Away, Ectopia and Orlando. Plus others being finalised at the moment.
Tags: spacetime15 |
Inheritors 22 February 2015
I've been trying to work out how to make the gallery space more of an immersive stage for the festival this year. I'm talking to a lot of very interesting people including the rather amazing James Holden, in particular to see if it might be posible to adapt his Inheritors live show in which he collaborated with dancer Lucy Suggate to fit the gallery space. Would be really great to completely re-think the gallery this year. Here's footage from the SONAR festival in Barcelona last year where they presented the collaboration for the first time.
Tags: spacetime15 |
Rose Kallal 22 February 2015
Very plesed to be talking to New York based artist Rose Kallal about presenting work in the festival. Having just had Lis Rhodes' work Light Music (1975) in the gallery, the prospect of a live performance using 16mm projectors seems less daunting. Rose has recently collaborated with Mark O Pilkington, who helped programme our festival in 2011, so hoping that we can present this collaborative new work by them with new visuals by Rose in response to 'The Multiverse'. Here's a collaboration from 2012.
Tags: spacetime15 |
What Goes On 15 February 2015
Pretty much all the music I love can be traced back to The Velvet Underground. This live version of What Goes On is unbelievably good and the visuals in this video work brilliantly - looks like original Factory footage but it's not attributed so can't be sure. Anyway, it's perfect.
Tags: untagged
The Old Forge 11 February 2015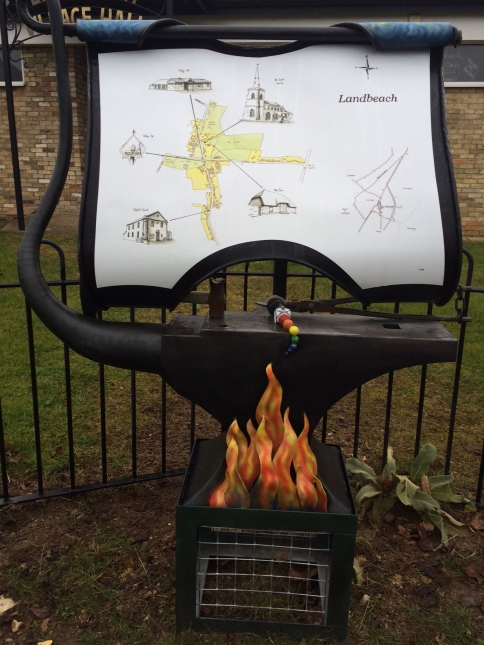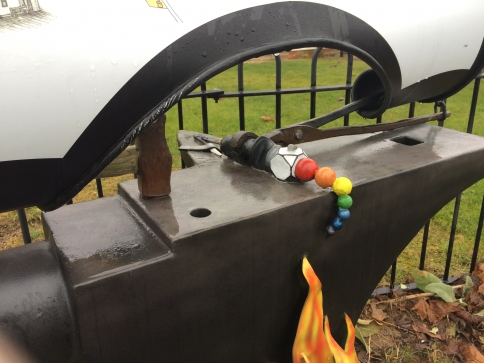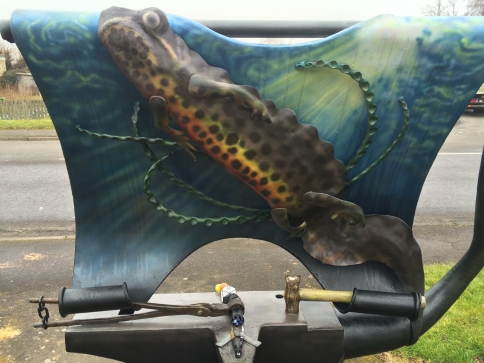 I think this might be one of the most bonkers public art works that I have seen in a very long time. It sits in front of a local village hall which has been re-named The Old Forge, presumably because of the history of the location. The artist seems to have taken every element of local symbolism that they can find and crammed it all into one rather startling construction. Though I have to say that I found the back even more surprising than the front! I haven't worked out the shipping connection yet - a map of the village is on a sail leading from an anvil. Apparently there are three more works about the village somewhere. Definitely going to have a look for those.
Tags: publicart |