Blogging about some of the things happening at Wysing, or influencing what happens at Wysing.
Archive: June 2019
Happy Birthday to Us! 7 June 2019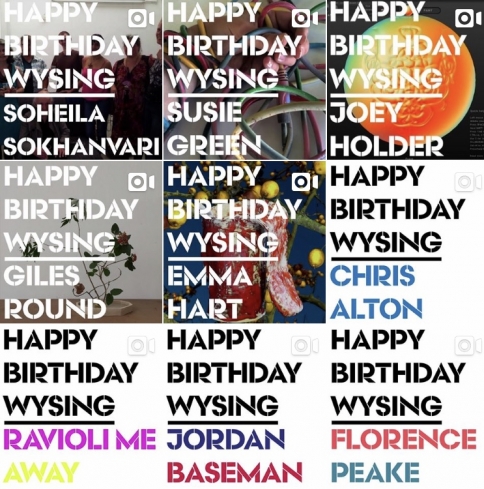 We've been getting brilliant digital birthday cards from some of the people who have worked at Wysing over the years. If you'd like to send us a card, email an image or short GIF to digital@wysingartscentre.org
To see recent cards go to #wysingbirthdaycards on Instagram.
Tags: #wysing30 | wysingbirthdaycards |
WYSING AT 30 7 June 2019
Wysing Arts Centre was established in 1989 through a generous act of philanthropy with the aim of establishing an inspirational workplace for artists. 30 years on, Wysing is valued as a national resource that supports artists to make ambitious new work, develop new networks, and reach new audiences.
Across our birthday year we will be inviting some of the artists who have worked with us to return to Wysing in order to present and exhibit work, lead workshops and curate aspects of the programme. We've got an exciting programme planned that will take place across our rural site.
Follow us on Instagram, Twitter and Facebook for updates or sign up to our e-mailing list via the Stay in Touch button on our website. We're looking forward to celebrating 30 years of Wysing with you!
Tags: #wysing30 |