This blog is written by Wysing's Director, Donna Lynas, and is about some of the things happening at Wysing, or influencing what happens at Wysing.
Tag: adamchristensen
Adam Christensen 28 April 2016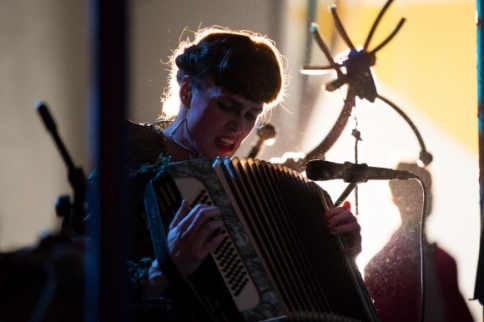 Meanwhile, in another part of the site, an entirely different vibe will be unfolding - lots of interesting artists making experiments with vocals and instruments and some spoken word and poetry which I'll focus on in another entry. I'm very pleased that someone on that stage will be Adam Christensen. Adam is in the band Ectopia, who blew everyone away at our festival last year and who since then I invited to do a record with us – our first record, theirs too. That is currently at the mixing stage but hopefully we will have something to share by 2 July. Adam played an intense and powerful set at the launch of Glasgow International last month. I was with him shortly after that and people were coming up to him saying how moving they found his music and performance. Unfortunately I missed the performance as couldn't get in due to over-crowding but he did an impromptu set in the toilets in the basement of Glasgow School of Art's Student Union later that night. It was hilarious and chaotic and, as you might imagine, very memorable. The last time I saw him play this track was in those toilets - in a purple dress, very high heels and playing the accordian - and BBC Radio 3's Late Junction programme included in in their schedule this Tuesday night. Have a listen on Soundcloud, here.
Tags: wysingpolyphonic | adamchristensen |