Blogging about some of the things happening at Wysing, or influencing what happens at Wysing.
Tag: thewayweactnowliveblogtext
The Way We Act Now Final Entry 14 June 2014
Performance by Shana Moulton

Cynthia is Shana Moulton's alter ego - "an excuse", she says, "to put on make-up, wear a wig and perform." But Cynthia is more than that. She's a 37-year-old Cindy Sherman looking conduit for all our neurosis's, climbing through the cosmos of feminine hygiene products, beauty aides and cod-religious philosophy to Nirvana. Which, in this case is a pot of Activa - and all that eating it promises (immediate transformation into Shakira of course). A hilarious and warm portrayal of the ageing process, girdles, and the advertising industry that feeds off a woman's fragile vanity.
Frances Stark's 'My Best Thing', 2011

Coercion, collaboration and copulation in the digital world. A soap opera featuring two online avatars on a dating website which is developed from real experiences that occurred to Stark online. To begin with the woman seems to dominate the conversation, she appears to genuinely want some kind of relationship with the man and continually pushes the man to reveal himself, while the man's role appears to be more passive and only interested in seeing how far the female avatar will go to excite him.

Stark raises questions about the boundaries that are crossed when intimacies are exchanged online. The conversation swerves from flirty to aggressive to moments of poignant honesty, yet neither character ever truly reveal themselves and the relationship always seems to be contractual.

Best moment:
Man: 'Do you have a slave who buys lighters for you?'
Woman: 'Yes'
Man: 'Capitalist'
Tags: thewayweactnowliveblogtext |
The Way We Act Now Entry 16 14 June 2014
Rachel Reupke Wine & Spirits 2013…
A slow moving silent ballard depicting the relationship between a man and a woman through the prism of a beer glass.

Quote:

"You need to breathe"

"I know I have actual pains in my chest"
Rachel Reupke on Wine & Spirits:

She has tried to read 'Gravity's Rainbow' by Thomas Pynchun three times and keeps getting stuck in the same place. The same situation is happening to the characters in her film.
Each scene in the film is autobiographical
Most of the images are from alcohol advertising.
It is a silent film, inspired by Fritz Lang
The diversity of images is like some modernist poetry.
Erica Scourti, A Life in AdWords (2012/13)

A film in which the artist reads out the key advertising words attached to her online diary emailed to her Gmail account each morning:
Unsurprisingly sex and hangovers seem to dominate.
A typical list runs thus: 'Birth control, red wine online, benefits of drinking water'.
I quite like that 'the artist' elicits the response 'fatigue testing' and 'vibrating monitors', while 'Teacher' is linked to 'kicked in the balls' and 'how to build self confidence'.

In the discussion with Kathy Noble, Erica says the lists reveal just how saleable our emotional and physical states are. You can be sold a new pillow, new medication or a new lifestyle.
Jesse Darling sees this as a feminist work
Erica agrees, saying the imperative towards self-bettering was particularly feminine and it was interesting that many of the keywords were about self-improvement.
Tags: thewayweactnowliveblogtext |
The Way We Act Now Entry 15 14 June 2014
Jesse Darling Performance

A Power point polemic on the nature of social alienation and private angst. Jesse Darling discusses the origins of her name and her personality and how her life has been formulated by social media through the use of social media.
Its lyrical, funny particularly in relation to her surname - which she describes as 'a warcry of defense of the world that doesn't love you'
Tags: thewayweactnowliveblogtext |
The Way We Act Now Entry 14 14 June 2014
Discussion between artist Cécile B Evans and Wysing curator Kathy Noble on her film AGNES (the end is near) 2014 about a spambot who manipulates digital data into expressions of human emotion.
The film is made in relation to her digital commission for The Serpentine Galleries website.

Questions were raised about how the work originated, Evans explained it evolved out of a performance she did in which she presented purely subjective information.

The character's name AGNES is inspired by a Twilight Zone episode in which a digital being falls in love with her creator and ultimately destroys him – why is it always a woman who is created to destroy men? Says Evans.
Tags: thewayweactnowliveblogtext |
The Way We Act Now Entry 13 14 June 2014
Question: People are less aware of what is going on around them because of mobile phones, they are not present in the place that they are in. Is it really possible to be in more than one place at the same time?

Richardson: People just are in different places at the same time. It is part of who we are.

Broadbent: Its about authenticity. What is the authenticity of the situation, people will have to make decisions about what is more important in the space that they are in. The person on the mobile phone or the one in front of them.
Tags: thewayweactnowliveblogtext |
The Way We Act Now Entry 12 14 June 2014
Question: Do you know of any research into whether TV was seen as a threat to social structures when it was introduced?

Broadbent: I have been lucky to follow the arrival of the internet because I have watched it evolve since its inception. When TV arrived there were few hours of programming, it was a slow evolution. It managed to fit into the shared environment. Whereas with the WIFI devices they are personalised. In that respect it is less of a communal environment.
Tags: thewayweactnowliveblogtext |
The Way We Act Now Entry 11 14 June 2014
Discussion:
Question 1: Has concentration broken down through too many digital devices. How do we focus when we have so much social media and there is a lack of understanding across generations about this.
Dr Stefan Broadbent: We should not see attention as linear, but traditionally this is how it has been. This has now changed.
Dr Kathleen Richardson: We are not present because being present is not very enjoyable.
Tags: thewayweactnowliveblogtext |
The Way We Act Now Entry 10 14 June 2014
Richardson calls the way we interact now 'Mechanical sociality'
There is the idea that we are not present when we are interacting with machines, but often we are not present when we are interacting with people. We are following well worn social conventions that may not actually reveal who we really are.
Tags: thewayweactnowliveblogtext |
The Way We Act Now Entry 9 14 June 2014
People are not interacting with another person they are interacting with a machine.
Richardson studies robots, social networking and also autism – and she tries to bring these things together to try and help people with autism back into the social arena.
A child with autism has difficulties reading human beings. There is an idea that a machine might be better at helping a child with autism than another human being.
In the philosophy of attachment disorder, people with autism are imagined to be missing social parts. These machines can address these 'deficits'.
A human is too confusing to read, whereas a robot is simpler for the autistic mind.
Tags: thewayweactnowliveblogtext |
The Way We Act Now Entry 8 14 June 2014
Taking your senses away from your experience:
Cuna Figurines
The colonialists thought the Cuna when making these figures, were copying the colonialsts' culture - but we do not think the same when artifacts from tribes are then exhibited in museums.
The idea that if you are indigenous and you take ideas from other cultures your culture is disolved or disrupted, but this is not seen the other way around.
Tags: thewayweactnowliveblogtext |
The Way We Act Now Entry 7 14 June 2014
Richardson cites Walter Benjamin: Work of art in the age of Mechanical Reproduction
This changed our perception of the world around us.
Uses the example of the theatre - it is a collective experience for both the audience and the participants.
When a camera is present then you are acting for a camera - this is your audience, you are acting to a machine and it is no longer a collective experience.
Tags: thewayweactnowliveblogtext |
The Way We Act Now Entry 6 14 June 2014
Dr Kathleen Richardson: on Digital Social Networking: A collective out of body experience.
Dictionary def of out of body experience: as if your mind and soul have left and you are looking at your body from the outside,
People have all the consumer goods that they need and they want to invest their income in bigger and better houses - it is about social status and a display of wealth to others.
Two different types of sites in digital networking: the annonymous and the personal.
Tags: thewayweactnowliveblogtext |
The Way We Act Now Entry 5 14 June 2014
Dr Stefana Broadbent: Fundamental changes in the home
The TV was a fundamental transformation of the home environment. It was seen as an object as the focus of joint attention.
It was not a disruptive element in our social world.
The story of the computer is completely different. They were positioned in corners that were identified as little offices.
They were there for educational purposes. These were not in a shared space.
With the intro of WIFI this space was subverted. We see the emergence of individual devices and the conflict rises not just from the separation and isolation of individuals but also how our spaces have been designed.
It pushes the limits of what we imagine the home space to be.
Tags: thewayweactnowliveblogtext |
The Way We Act Now Entry 4 14 June 2014
Our attention is a limited resource and that is what makes it so special for those trying to get access to it.
Dr Broadbent describes a toddler pointing to a cloud and he's checking to see if his mother is watching.
This is a crucial moment in child development in the construction of language as most primates are not capable of this.
Tags: thewayweactnowliveblogtext |
The Way We Act Now Entry 3 14 June 2014
Dr Stefan Broadbent: discussing the social history of attention, she says the biggest currency that is being sold and traded in the internet and digital industry is attention
Tags: thewayweactnowliveblogtext |
The Way We Act Now Entry 2 14 June 2014
Welcome to our live coverage of the first Futurecamp event in which we explore how human behaviour has changed in the digital age. Over the next few hours I shall be reporting the views of anthropologists and artists on the dramatic transformations in recent years in the way we communicate and what this holds for the future.
Tags: thewayweactnowliveblogtext |
The Way We Act Now Entry 1 14 June 2014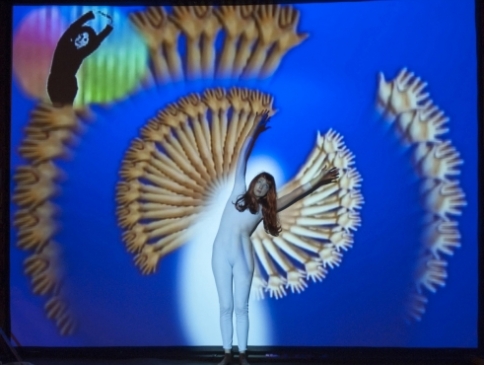 Live blog by Jessica Lack.
Good morning, and welcome to the live blog where I shall be covering the first in a series of talks and screenings held at Wysing Arts Centre as part of Futurecamp, the ten week events series taking place over the summer. Today's session focuses on how human behaviour has changed as a result of digital technology and what the repercussions of this might be in the future.
This blog will run throughout the afternoon. The event kicks off at 12pm with an introduction from Wysing Arts Centre curators Kathy Noble and Gareth Bell-Jones.
In the meantime you can:
• Check out the Serpentine Galleries' spambot AGNES created by Cécile B Evans who will be in discussion with Kathy Noble later this afternoon
• Get up-to-date with recent developments with this report about the computer AI who passed the Turing test.
• Leave your questions on the Facebook page and I shall throw them into the discussion at 1:10pm
Today's event kicks off with Dr Stefana Broadbent, who presented her research into how digital technology has revolutionised office culture by reducing social isolation in 2010. You can watch her Activate talk about the subversive nature of mobile phone communication in the work place here
It will be interesting to see where her research has taken her in the past four years.

It could well be said this live blog is symptomatic of the very phenomenon up for discussion today, particularly in light of our second speaker Dr Kathleen Richardson's recent writings into social networking as a dissociative practice.

Finally Futurecamp resident artist Cécile B Evans will be in discussion with Kathy Noble about her spambot AGNES
Tags: thewayweactnowliveblogtext |