Blogging about some of the things happening at Wysing, or influencing what happens at Wysing.
Tag: wysingpolyphonic
WYSING POLYPHONIC 23 August 2018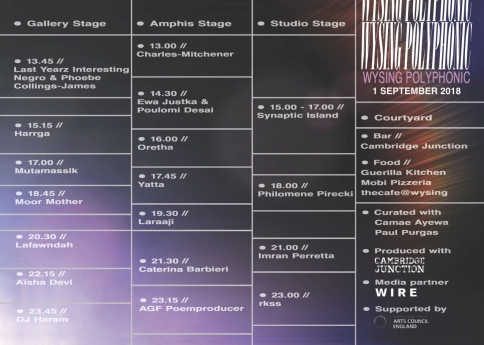 2018 festival running order finalised.
Tags: wysingpolyphonic | wysingmusicfestival |
life/section 16 June 2017
Have a listen to Ectopia's 'Bermondsey Lagoon' Golden Temple remix. Listen on Soundcloud here
Tags: wysingpolyphonic |
O Yama O 31 May 2016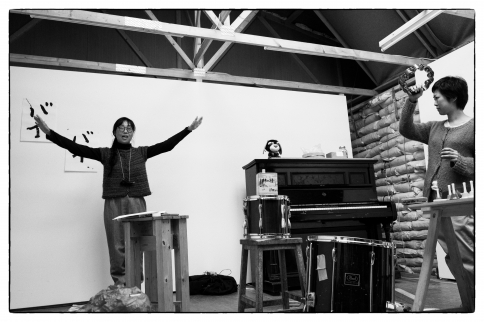 Really happy that O Yama O will be performing at the festival. They are Rie Nakajima and Keiko Yamamoto and they create beautiful performances based on Japanese folk stories. I saw them at the Borealis festival in Bergen earlier this year and was completely transfixed, and in fact booked them there and then. Rie uses tiny everyday objects that she builds into layers of sounds. It will be amazing to see this performed in the evocative Amphis. Londoners will know of Keiko as the co-founder of Cafe Oto. Here's a video of Rie performing with Pierre Berthet earlier this year. Pierre will also be performing this year. More on him in another posting. Click to go to Vimeo, here.
Tags: oyamao | wysingpolyphonic |
Musarc choir 14 May 2016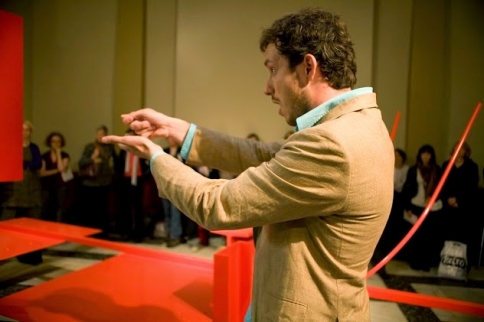 Very happy that Sam Belinfante will be bringing the amazing Musarc choir to the festival. They will be perfoming a range of works, including a new performance with Elaine Mitchener, that Sam is developing at the Wellcome Trust. We're also talking to them about performing the wonderful Tape Music by Lin Chi-Wei. It's a work that is perfect for this year's festival. I'll have a youtube link of that to share soon but in the meantime, here is a link to the choir's website.
Tags: musarc | sambelinfante | wysingpolyphonic |
Adam Christensen 28 April 2016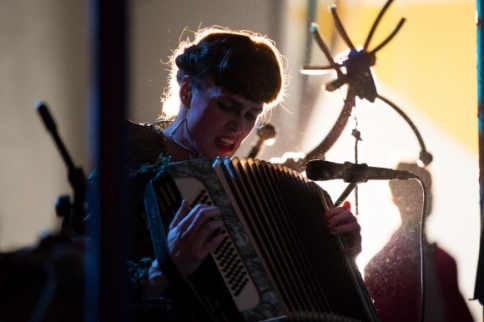 Meanwhile, in another part of the site, an entirely different vibe will be unfolding - lots of interesting artists making experiments with vocals and instruments and some spoken word and poetry which I'll focus on in another entry. I'm very pleased that someone on that stage will be Adam Christensen. Adam is in the band Ectopia, who blew everyone away at our festival last year and who since then I invited to do a record with us – our first record, theirs too. That is currently at the mixing stage but hopefully we will have something to share by 2 July. Adam played an intense and powerful set at the launch of Glasgow International last month. I was with him shortly after that and people were coming up to him saying how moving they found his music and performance. Unfortunately I missed the performance as couldn't get in due to over-crowding but he did an impromptu set in the toilets in the basement of Glasgow School of Art's Student Union later that night. It was hilarious and chaotic and, as you might imagine, very memorable. The last time I saw him play this track was in those toilets - in a purple dress, very high heels and playing the accordian - and BBC Radio 3's Late Junction programme included in in their schedule this Tuesday night. Have a listen on Soundcloud, here.
Tags: wysingpolyphonic | adamchristensen |
David Toop 28 April 2016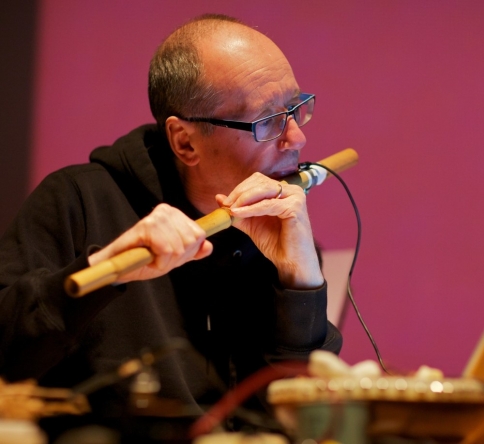 So the whole acoustic approach to the festival came about after time spent thinking about festival structures - the stage, the speakers, the mixing desks, and where people need to stand to both hear and be heard. Last year I tried to play about a little bit with the tech, to try and create something more intimate, so that the audience could feel closer to the performers and performances. So we moved the stage, made it lower, tried to reduce the size (though not quality) of speakers. It sort of worked, but I came to realise that if I really wanted to get away from an established festival format - of performers on stages with massive sounds systems - then I was going to have to do something more radical. The idea of no fixed stage and no fixed position for the audience suddenly seemed a freeing prospect. As did the idea of trying to bring people together in a moment of intense and concentrated listening, where they are totally focussed on the sounds being made directly in front of them. David Toop was particularly encouraging of this approach. David is an extraordinarily prolific and knowledgeable musician and knows so much about the history of music and sound performance. He's interested in the sound of literally everything and talks eloquently on the importance of silence. I could literally listen to him talking all day long. Here is talking about making sound. Click to go to Vimeo, here.
Tags: wysingpolyphonic | davidtoop |
Jennifer Walshe 27 April 2016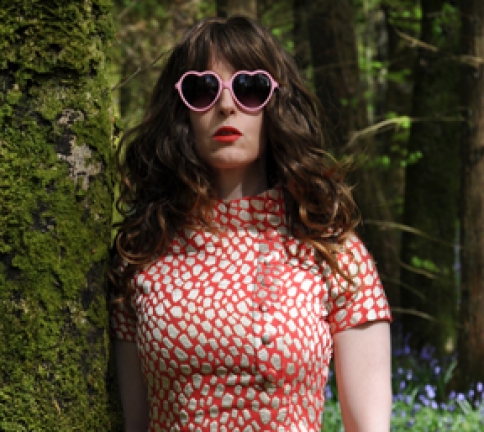 I met Jennifer Walshe at the brilliant Borealis festival in Bergen in March. I went to screening of her film An Gléacht, about a fictive Irish great-uncle obesessed by magic, folklore and ritual. I really loved the film; because it was incredibly compelling but also because it tapped into some deep symbolism attached to my own Irish history. Anyway, Jennifer is an extraordinary vocalist and composer. Here she is with the late great Tony Conrad, performing together in 2011. Click to go to Vimeo, here.
Tags: wysingpolyphonic | jenniferwalshe |
Tomomi Adachi 27 April 2016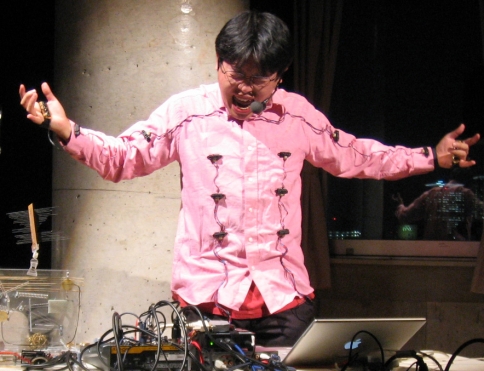 Very pleased to have just confirmed the Japanese performer, composer and sound poet Tomomi Adachi for the festival. He'll be collaborating with Jennifer Walshe, developing some vocal work they have worked together on previously. Apparently he is the only performer of sound poetry in Japan! He has collaborated with a lot of people internationally, not least Jaap Blonk who you can see him with in this incredibly dextrous, and occasionally hilarious, improvised performance. Click to go to Youtube, here.
Also nice film of him talking about how he works here.
Tags: wysingpolyphonic | tomomiadachi |
Laura Cannell 23 April 2016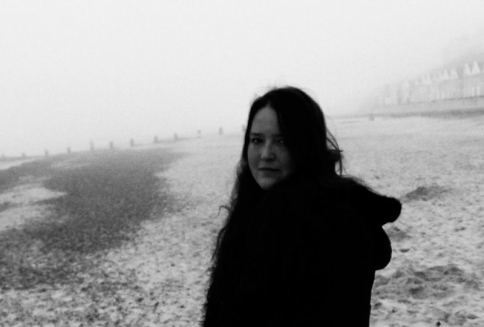 Straight after Barnaby Brown plays the ancient Celtic triplepipes, which have been re-constructed from drawings in stone carved by the Picts and Irish, Laura Cannell will perform using a deconstructed bow and double recorder. Laura is based in East Anglia and alongside tapping into the haunting sounds of early and medieval music, she captures a sense of the eerie and often melancholic flatlands of the Fens in her improvised performances. I'm really excited to see the two performances in such close proximity. Have a listen. Click here to go to Youtube.
Tags: wysingpolyphonic | lauracannell |
The Silver Pipes of Ur 22 April 2016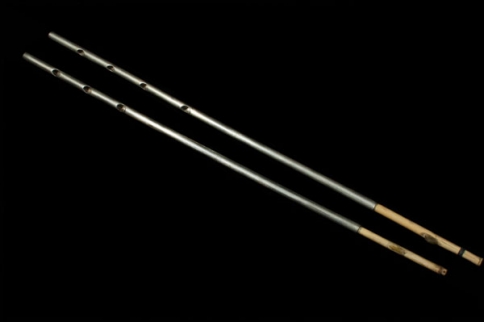 Very lapsed with blogging because I have been out and about so much these days that time at my computer is totally consumed by catching up with emails and other neglected correspondence. One of the reasons I've been out so much is to see a lot of music and to talk to people about plans for our music festival, Wysing Polyphonic. This year's festival will be totally acoustic, an idea that has been encouraged by key people including David Toop and Paul Purgas. Talking it over has been a great pleasure as it has brought me into contact with a lot of amazing people. On this acoustic journey, I have been lucky enough to see the incredible Barnaby Brown perform on re-constructed copies of the wonderfully named The Silver Pipes of Ur (c. 2450 BC). For Wysing Polyphonic, Barnaby will be playing the triplepipes, the ancester to the highland bagpipe. He literally plays three pipes all at the same time and each has a different role within the music. Together, they have an extraordinary drone sound and tap into something very ancient and moving. Here is Barnaby playing The Silver Pipes of Ur alongside a recontructed lute of the same period. Click here to go to Youtube.
Tags: wysingpolyphonic | barnabybrown |