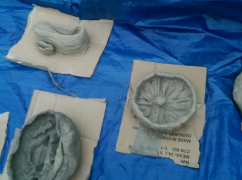 Two day weekend workshop
Saturday 17 and Sunday 18 October 2020
Fully booked, waiting list available. Click here.
Wysing studio artist Florian Roithmayr will teach a two day course on moulding and casting materials.
Moulding and casting are traditional sculptural techniques, but the imprint, the gesture informing moulding and casting can also be found in other art techniques and even in areas not often associated with art making.
This two-day course will explore different processes based on the imprint, of the coming together of different matter and the consequences of their exchange.
Over the course participants will work with basic materials like clay, plaster, concrete, wax and Papier-mâché to develop an experience of the relationship between mould and cast: of form-giving and form-receiving. These materials and processes will be used in speculative, unpredictable ways to allow accidents and chance occurrences, allowing and inviting contaminations, reversals, decay and destruction. The focus will be on making through process rather than through resemblance.
Safety notes: This is an experimental workshop; participants will unlearn traditional mould making techniques. Please wear clothing suitable for messy work. The two days will be held in a large, well ventilated room and, if weather permits, outdoors, with a maximum of 6 participants. Social distancing will be in place at all times, and separate workstations will be provided for each person. Please do not attend if you have symptoms of coronavirus or think you have been in contact with someone with coronavirus. If you cancel for this reason, your booking fee will be refunded.
Materials: All materials provided as part of your course fee.
Format: Weekend workshop 10.00-5.00 pm both days.
Lunch: For hygiene reasons, please bring your own packed lunch. Tea and coffee will be available so please bring your own cup if you wish to, otherwise we will have disposable paper cups available.
Dates: Saturday 17 and Sunday 18 October 2020 10.00am-5.00pm.
Fees: £160 per person (concessionary rates available on request).
Tutor biography:
Florian Roithmayr initially trained as a theatre designer with Herbert Scherreiks in Germany before studying in London.