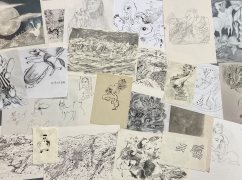 Four week course
Monday 16 November until
Monday 7 December 2020
For booking, click here.
The Surprise of Drawing is a four week drawing course centred on the principle that everyone can draw. These experimental sessions will give the chance to those with little or no experience to explore drawing, those out of practice to re-explore drawing, and for anyone in a rut to shake up old drawing habits. It will be a chance to make work that looks both out into the world and inside ourselves for inspiration, and hopefully inspire students to carry on drawing with confidence long after the course has finished.
Safety notes: The class will be held in a large, well ventilated room, with a maximum of 6 participants. Social distancing will be in place at all times, and separate workstations will be provided for each person. Please do not attend if you have symptoms of coronavirus or think you have been in contact with someone with coronavirus. If you cancel for this reason, your booking fee will be refunded. You will be asked to provide your temperature on arrival.
Materials: Drawing materials will be provided. If you have an easel, please feel free to bring.
Format: Monday evening class 7-9pm for four weeks.
Dates: Monday 16 November 2020 until Monday 7 December 2020.
Materials: All materials provided as part of your course fee.
Fees: £150 per student
Tutor biography:
Penny Klein is an artist and educator, with a BA in illustration. Her work is concerned with expressiveness, often improvised, intimate and immediate. She teaches drawing to both children and adults.