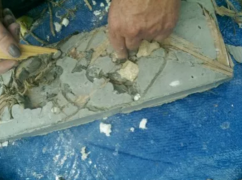 Materials: All materials provided as part of your course fee  .
Format: Weekend long workshop, with lunch provided.  
Dates: 10.30–5.30pm, Saturday 21 and Sunday 22 March.
Fees: £180 per two-day course.
Bookings: please click here.
Course Information:
Wysing studio artist Florian Roithmayr will teach a two days course on moulding and casting materials.
Moulding and casting are traditional sculptural techniques, but the imprint, the gesture informing moulding and casting can also be found in other art techniques and even in areas not often associated with art making.
This two-day course will explore different processes based on the imprint, of the coming together of different matter and the consequences of their exchange.
Over the course, participants will work with basic materials like clay, plaster, concrete, wax and Papier-mâché to develop an experience of the relationship between mould and cast: of form-giving and form-receiving. These materials and processes will be used in speculative, unpredictable ways to allow accidents and chance occurrences, allowing and inviting contamination's, reversals, decay and destruction. The focus will be on making through process rather than through resemblance.
Please note: this is an experimental workshop; participants will unlearn traditional mould making techniques. Please wear appropriate clothing. 
Tutor Biography:
Florian Roithmayr initially trained as a theatre designer with Herbert Scherreiks in Germany before studying and researching art at the Slade School and Goldsmith College in London. He works with sculpture to generate and trace exchanges between bodies, between bodies and materials, and between materials. The ambition is to register the consequences of one surface or material yielding another through capturing the unexpected gestures that occur in the gap between mould and cast. In this interstitial space, occurrences often remain unforeseeable and unaccountable.
Recent solo exhibitions include: The Humility of Plaster, HS Projects, London, UK (2019); something infinitely distant and strange, Tenderpixel, London, UK (2018); these here withins, Renata Fabbri Gallery, Milan, IT (2018).