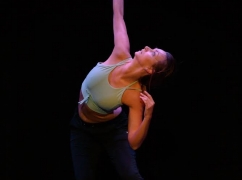 Day course with Bailey Grayson
Sunday 11 September 2022,
10am–4.15pm
Book a space for the course via Eventbrite here.
In this one day workshop Bailey will guide you through different techniques and creative exercises to help you further your own choreographic abilities. She will also help to build confidence when improvising, giving the dancers structured improvisation activities to inspire individual style and artistry.
Her hope for the workshop is for the students to leave feeling positive and self-assured in their ability to generate original choreography. The workshop will conclude with an informal showing for friends and family to illustrate the achievements of the day. This workshop is for all levels.