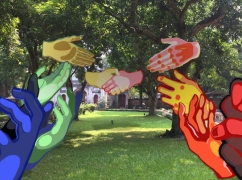 Half day course with Nurbanu Asena
Saturday 17 September 2022,
10am–12.30pm or 1.30–4pm
Book a space for the course via Eventbrite here.
Want to learn how to create Augmented Reality? In this half day introductory workshop, Nurbanu will teach people how to use Adobe Aero to bring graphics to life in AR.