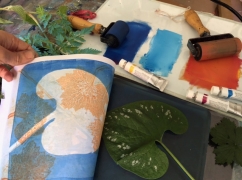 Day course with Helen Kenny
Friday 7 October 2022, 9.30am–4pm
Book a space on the course via Eventbrite here.
This one-day introductory workshop uses a direct printmaking process to explore art making through texture, mark-making and colour.
Jelly plate printing is a technique used to create monoprints without the need for a printing press. The speed of the jelly process creates a freedom, allowing exploration and experimentation to take place. The soft, reusable printing plate is ideal for transferring detailed textures from materials such as leaves, textured fabrics and papers. It is also possible to paint directly onto the plate, creating unique gestural or painterly marks. By printing multiple layers of different texture, form and colour, it is possible to build images rich in subtlety and depth.