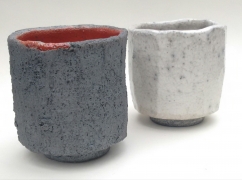 Two day workshop with Jeremy Peake
Saturday 13 August and Saturday 27 August 2022
Book a space for the course via Eventbrite here.
In this two day workshop, you will widen your creative pottery skills and learn about the raku firing process.
On the first day of the workshop you will be hand-building pots (wheels are available for students who already know how to throw). Returning to Wysing two weeks later (so that your pot can dry and be biscuit fired), you will then glaze, decorate and finish it, firing it in a raku kiln.
Suitable for those with some basic experience of pottery.