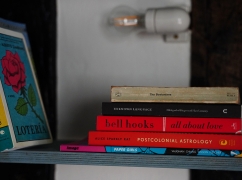 Wysing Farmhouse Library
Call out to artists who have stayed at Wysing's Farmhouse
Artists who have been involved in Wysing's programme and/or stayed in the Farmhouse at any time over the last 33 years are warmly invited to nominate a book for the Farmhouse Library. The Library was started in 2014 by Ruth Beale & Giles Round as part of the exhibition The Influence of Furniture on Love. It continues to grow as a gift for future guests and and residency artists.