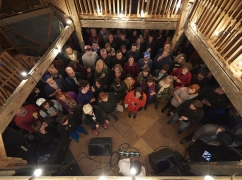 Would you like to exchange some of your time for a ticket to our music festival?
We are seeking enthusiastic and reliable people to help us deliver our annual festival of art and music, Wysing Polyphonic, on Saturday 2 July.
Roles include marshalling, serving refreshments, litter picking and box office duties and we are offering a free day ticket to the festival, value £22, in exchange for three hours work in one of these roles. Induction and training will be given.
Please contact louise.thirlwall@wysingartscentre.org for more information.