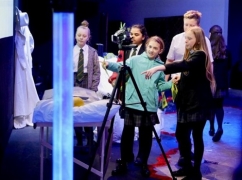 Hours: 30 hours per week (4 days)
Working pattern: Flexible. Occasional evening and weekend working necessary (Wysing operates a TOIL system).
Location: The role is primarily site based at Wysing Arts Centre, Bourn, Cambridgeshire, CB23 2TX but with some travel required around the Eastern region.
Salary: £26,000-£28,000 per annum pro rata.
Contract: Permanent, subject to probation after three months
Reporting to: Director
The Young People's Programme Coordinator is part of Wysing's programme team and works alongside the Director, Senior Programme Curator, Assistant Curator and Digital Producer, supported by the Programme and Operations Assistant.
The purpose of the role is to devise and deliver a dynamic, relevant, integrated programme of activity that has imagination, learning, and creative co-production at the heart, with a particular focus on young people (our definition includes children) who have been marginalised, and who experience rural isolation. The post-holder will work closely with Wysing's network of artists as well as introducing new artists to the programme, to develop activity alongside partner organisations across the region, including in the youth and education sector.
We are looking to appoint someone who is motivated, collaborative and empathetic, driven by the potential to meaningfully impact the lives of young people.