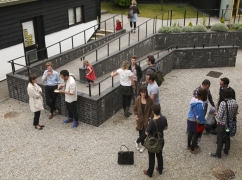 Wysing Residencies 2013
Convention T
Over the last five years at Wysing, we have experimented with different programmatic structures in order to support artists to make new work. During 2013 we will be further exploring how structures, some visible and others implied, might be used to uncover meaning, narrative, paradox or indeed certainty.
Click here for details about 2013's residency programme, Convention T.
The deadline for application for this year's residencies has now passed, but please sign up to our e-bulletin to stay in touch and hear about future opportunities.