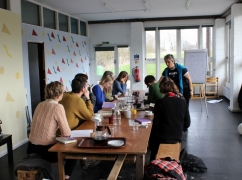 Our first retreat in 2015 will take place from 12 - 15 May. The retreat will be an artists' Masterclass and it is being developed in partnership with the Royal College of Art's MA in Curating Contemporary Art.
Previous Masterclasses have been led by artists Mark Titchner and Dora García, and the musician Marshall Allen, of Sun Ra Arkestra.
A call for participation will be announced in during January 2015. Please subscribe to our e-bulletin for up to date information, click here. Or follow us on Facebook or Twitter.