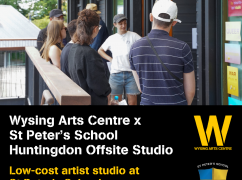 Wysing Arts Centre x St Peter's School Huntingdon
Offsite Studio
Click here to view this information as a PDF, with photos of the studio.
Wysing Arts Centre and St Peter's School invite applications for a low-cost artist studio, situated within St Peter's School and available to license between October 2023 and August 2024.
The students and team at St Peter's School are excited by the prospect of welcoming an artist to their school. The selected artist will be expected to interact with the school and local community to support school activities, for example, by opening their studio up for a studio visit once a term. We can work with the selected artist to define the terms of this contribution.
The ground floor wheelchair accessible studio is situated in the Design and Technology Department at St Peter's School.