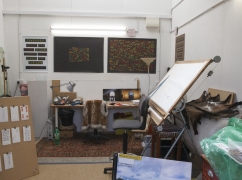 Through Wysing Studios, artists occupy our range of purpose built and converted studio buildings at subsidised rates. Studio artists have access to mentoring sessions with Wysing curatorial staff, access to a year-round programme of public events and exhibitions, and are able to occupy studios for up to five years.
Additional facilities include a ceramics workshop, wi-fi, a communal kitchen open during the day where staff and artists can meet up to take a break and have meetings, and there is ample parking within a rural setting.
Download Wysing's Studio Policy here.