Bedwyr Williams Beehive Skyscraper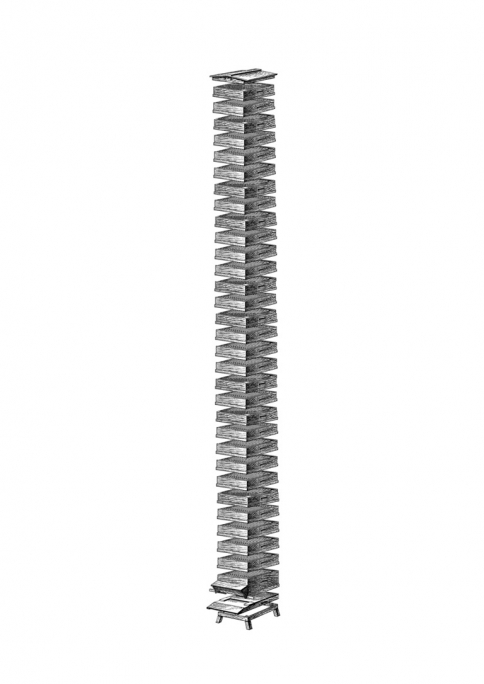 Limited edition print commissioned by Wysing Arts Centre to commemorate Bedwyr Williams' residency during the International Camp for Improbable Thinking, 2010.
Digital printing press, litho quality on 140gsm cream Tintoretto Gesso paper, 422 x 290mm
Edition of 60 hand-signed by artist in pencil
The price to buy online includes £25 courier and insurance within the UK. For shipping costs internationally please contact us at info@wysingartscentre.org before purchase.
£205.00
In the summer of 2010 Bedwyr Williams was invited to participate in the International Camp for Improbable Thinking at Wysing.
During his residency he investigated farming subcultures and agricultures from an improbable perspective. Beehive Skyscraper was commissioned by Wysing to commemorate his performance and construction of a giant Beehive Skyscraper sculpture in the woods at Wysing.
Williams' work includes stand-up comedy, sculpture and painting, posters and photography. He draws on his own experiences and his take on the world is simultaneously satirical and deadly serious, he reveals both his and our own complex neurosis and idiosyncrasies. His installation, text based works and live performances explore subject matter ranging from growing up in Colwyn Bay with size 13 feet, to a fictious mini bus crash with four other artists in residence in which he is the only survivor.
Through the use of a broad range of media, a strong sense of surrealistic humour and a sharp critical mind, he explores notions of what it means to be an artist who has grown up and continues to live and work outside of the urban mainstream. He makes work relevant to a sense of place and belonging but simultaneously refuses to be compromised or pigeon-holed by provincial tastes or stereotypes.
Bedwyr Williams was born in St Asaph, Wales in 1974 and lives and works in Caemarfon, Wales. Solo exhibitions include 'The Jinx', 1857, Oslo, 2010, 'Nimrod', Ceri Hand Gallery, Liverpool, 2009, 'Methodist to my Madness', The Bakery, Annet Gelink, Amsterdam, 2009 and 'No More Mr Nice Guy', Store Gallery, London, 2008. Bedwyr has a forthcoming solo exhibition at IKON Gallery, Birmingham and group exhibition at the Kunstverein Bonn, Germany, 2011. Bedwyr Williams is represented by Ceri Hand Gallery.