Anna Bunting-Branch Enamel Badges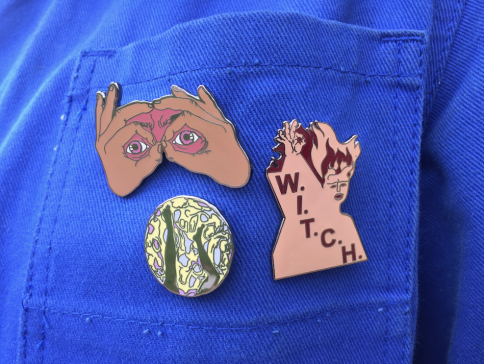 Postage included in price.
For overseas purchases, please email info@wysingartscentre.org to arrange additional payment for shipping.
£17.00
Set of three Enamel Badges designed by Anna Bunting-Branch. Includes all three badges.
In the late 1960's feminist protest groups under the acronym W.I.T.C.H. sprung up across the US protesting bridal fairs and hexing Wall Street. Brandishing pointy black hats the groups set about reclaiming the stereotypical figure of the crone. Although the acronym is often described as standing for Women's International Terrorist Conspiracy from Hell, history ascribes several meanings to it. Drawing on a range of archival sources including images and rhetoric from protest posters, advertisements for feminist organizing and motifs from feminist science fiction texts, Bunting-Branch's work proliferates new meanings for this feminist phenomenon.