Q: Where do you see yourself in twenty-five years?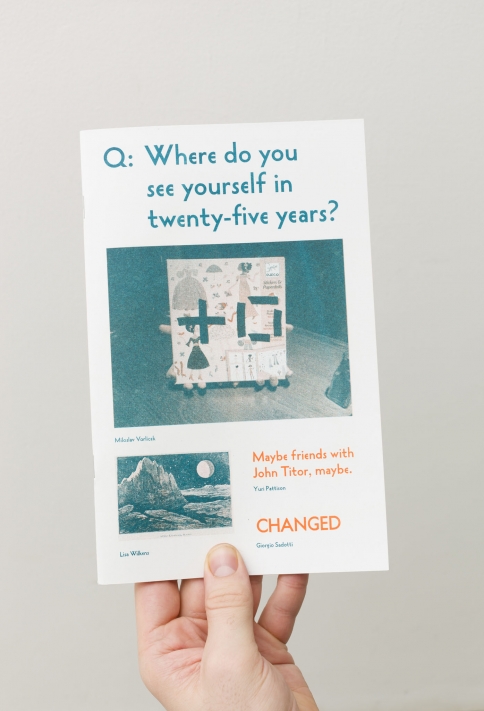 Q: Where do you see yourself in twenty-five years? 2014
£6.50
Published for the exhibition Annals of the Twenty-Ninth Century with designers An Endless Supply, the publication collates the hugely varied reactions to the question 'Where do you see yourself in twenty-five years?' from sixty-seven artists, writers, academics and contributors to Wysing's 2013 programme.
Whilst speculating on many possible futures, the collection of responses also takes a snapshot of current trends and ideas in art practice.
Contributors: Luke Abbott, Lara A'Court, Aaron Angell, Bruce Asbestos, Jonathan Baldock, Manuela Barczewski, Anna Barham, James Beckett, Rebecca Bligh, Terry Bond, Spike Bucklow, Edwin Burdis, Adam Chodzko, Ami Clarke, Briony Clarke, Elena Cologni, Keren Cytter, Liz Davies, Arnaud Desjardin, Lawrence Epps, Cecile B. Evans, Chris Evans, Lizzie Fisher, Katherine Fishman, Amanda Game, Margarita Gluzberg, Paul Goodwin, Melissa Gordon, Aubrey de Grey, Kit Hammonds, Richard Healy, Candice Jacobs, Rebecca Jagoe, Jack James, Kyle Kirkpatrick, Samuel Levack, Jennifer Lewandowski, local radio, Amanda Loomes, David Mabb, Joy Magezis, Rupert Norfolk, Maria Teresa Ortoleva, David Osbaldeston, Simon O'Sullivan, Seb Patane, Yuri Pattison, Paul Purgas, Florian Roithmayr, Catharine Rossi, Giorgio Sadotti, Emma Smith, Rob Smith, Cally Spooner, Helen Stratford, Ash Summers, Chooc Ly Tan, Eleanor Vonne Brown, Miloslav Vorlicek, Ellen Mara De Wachter, Caroline Wendling, Eva Weinmayr, Lisa Wilkens, Daniel James Wilkinson, Conor Wilson, Keef Winter, Lucy Woodhouse.
£6.50 inc p&p